Latest Posts
Written by Vlad on December 22, 2010 – 1:03 pm -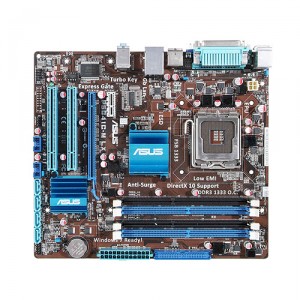 In a previous post I explained how on my main desktop system – a socket-775 Core 2 Duo E4500 system – I can only access 3.25GB out of 4GB of RAM that I have installed. This is because of a deficiency in the Intel 945GC Express chipset on my Asus P5GC-MX 1333 motherboard. Basically, the chipset reserves 750MB of address space for peripherals, but does not have the ability to remap the overlapping physical RAM above 4GB.
In that post, I also described how I bought an Asus EAH5670 PCI Express video card, based on the ATI Radeon HD 5760 chipset. The purpose was to speed up the system, as the motherboard's inbuilt graphics chipset shares memory with the rest of the system, slowing it down.
Well, whilst browsing MSY's website, I discovered that they sold the Asus P5G41C-M LX Motherboard, for Socket 775 CPUs, at a cheap price – only $58. I decided to buy it. Not only will this motherboard allow me to reclaim the 750MB of RAM that I can't use at the moment, but it will also increase maximum RAM support from 4GB to 8GB maximum.
The motherboard has support for both the older DDR2 memory and modern DDR3 memory. This saved me money, as I am able to reuse the existing two 2GB DDR2 modules in my current motherboard, but when I upgrade to 8GB, I will almost certainly be buying two 4GB DDR3 modules. You often find when buying second hand memory that the older DDR and DDR2 memory modules are actually more expensive than DDR3 modules, as the older forms are no longer manufactured and so they are in shorter supply.
The other bonuses from this motherboard upgrade are that the SATA maximum speed has been doubled from 1.5Gb/s to 3Gb/s, and the on-board Ethernet LAN upgraded from 100Mb Ethernet to Gigabit Ethernet.
When I feel the need, I will also be able to upgrade the CPU from a Core 2 Duo to a Core 2 Quad. I will also be able to add a PCI express USB 3.0 adapter to benefit from the new high speed devices that I expect to be coming out over the year. I expect that this will allow me to get another 2 years out of this system.
Tags:
Asus
,
Socket 775
Posted in
Motherboards
|
2 Comments »