Written by Vlad on July 11, 2011 – 7:27 pm - 4,681 views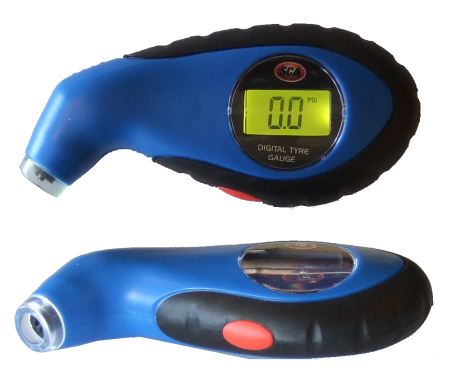 The SCA Digital Air Pressure Gauge lets you quickly and accurately measure the air pressure in your car and bicycle tyres.
The pressure gauge is fully electronic and displays the measured air pressure on a four digit LCD display. Unlike other models, both the LCD display and measurement tip are illuminated by LEDs, to help you easily find the valve stem on your tyre and read the LCD display at night time, or in a dimly lit garage where it's dark.
It supports all common units of air pressure including Pounds per Square Inch (PSI), Kilopascals (kPa), Bars and Kilogram Force per Square Centimetre (Kg/cm2). According to online specifications, the digital air pressure gauge is accurate to 0.5 PSI (3.45 kPa / 0.034 bars / 0.035 kgcm-2).
It weighs 61g (2.15oz) and measures 10.8cm × 4.85cm × 2.3cm (4.25in x 1.91in x 0.91in), so it is compact enough to stash in your car glovebox or cycling backpack.
I purchased it from Supercheap Auto for $19.99. Identical digital air pressure gauges are available on eBay for $10 or less, marked with the brand names "Jinmao" and "Airsoon". The only difference I can see is that most of the ones on eBay are yellow instead of blue.
Why I purchased the SCA Digital Air Pressure Gauge

To get food fuel economy (mileage) in your car and to maximise the life of your tyres, you must ensure that your tyres are inflated to their rated pressure. It is a known fact that the analog air pressure gauges that are built into air compressors (like the ones you find at petrol stations) are often inaccurate, and that dedicated air pressure measuring devices are far better.
I had wanted to get a digital air pressure gauge for a while, but kept putting it off. Last week, when I was on my way to Supercheap Auto to buy a car battery charger (a review on that is coming later), I noticed that two of my car tyres were bulging outwards at the bottom. I decided to pick one up while I was in the store.
They had two digital models, and I chose the more expensive one because it supported more units of measurement and had the built-in LED illumination.
Using the Digital Air Pressure Gauge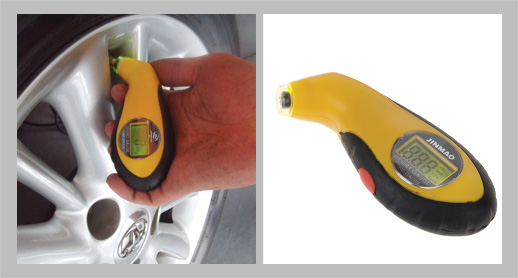 Turn on the gauge by depressing the orange button on the side. The display will light up
Select your required units of measurement by quickly pressing the orange button. Each time you press, it switch to the next unit (PSI, kPa, bar or kg/cm2)
Locate the valve stem on the tyre and unscrew the cap, placing it somewhere safe
Slide the measurement tip over the end of the tyre's valve stem and press down on it. Ensure that the tip is perfectly parallel to the top of the valve stem to prevent air escaping
Screw the cap back onto the valve stem of the tyre
The digital air pressure gauge will automatically turn off after 20 seconds of inacivity, but you can force it to turn off by holding down the orange button for a few seconds and letting go
Tips for Measuring Your Tyre Pressure
Your tyre's rated pressure is often embossed in the rubber on the rim of the tyre. It may also be in the vehicle owner's manual or on a tyre placard attached to the vehicle door edge, doorpost, glove box door or fuel door. If you can't find it, contact the place where you bought your tyres from and ask them what the rated pressure is.
Measure the air pressure when your tyre is cold. Air expands when heated, so if you've been driving for a while, your tyres will be warm and the air pressure inside will be higher than normal.

Car tyres can be very dirty. If you are on the road, keep some pre-moistened towelettes, e.g. Wet Ones, in your car so you can wipe your hands when you're done.
More Information on Tyre Pressure
Tags:
air pressure
,
bicycle
,
car
,
gauge
Posted in
Tools
|
No Comments »