Written by Vlad on July 10, 2011 – 2:21 pm - 14,824 views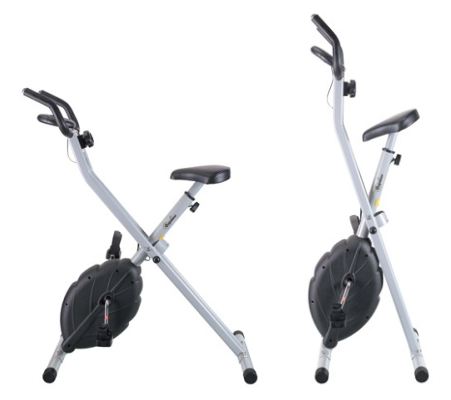 This is an exercise bike with a folding frame, designed to be easy to set up and put away when you're not using it. If you are short of space in your bedroom or living room, this is a godsend.
It has a magnetic resistance system with 8 resistance settings and a 4-function cycle computer that tracks your riding time, speed, distance, and calories burnt. The cycle computer is powered by a single AA battery, so no mains power is required.
It weighs 17kg (approx 37.5lbs), so it is easy for a single person to carry with two hands.
When unfolded, it takes up 88cm x 45.5cm (2.9ft x 1.5ft) of floor space, with a maximum height of 126.5cm (4.15ft)
When folded, it reduces to 52.5cm x 45.5cm (1.7ft x 1.5ft) of floor space, with a maximum height of 147cm (4.82ft)
It also features non-skid foot pedals with straps, and a height-adjustable padded seat.
I bought it on special for $100 from oo.com.au, during their end-of-financial year sale. It is also available on eBay.
Why I Bought The Confidence Folding Exercise Bike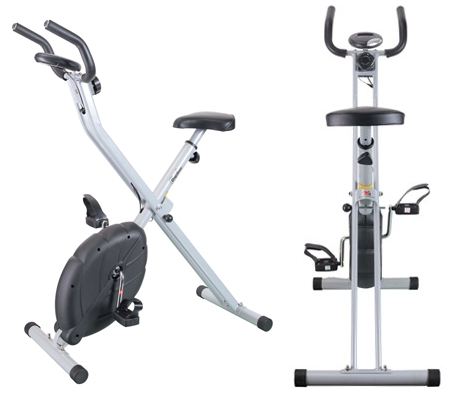 It's Winter here in Australia and in Sydney, it's been bloody cold and rainy. Nothing compared to a Scandinavian Winter, but at least those guys get snow. When it snows, you can go skiing, make snowmen, throw snowballs. We have humid winters, so you feel the cold more.
Up until a year ago, I was working in a full-time job in the Sydney CBD, and I was a member of the local gym, where I did cardio classes 2-4 times per week. My gym membership ended and since then I have done far less cardiovascular exercise. I am still doing dance classes and fortnightly personal training, but I know this is not enough. A year has gone by and I can clearly see that I am not the firm man I was before.
The fact is, I knew I needed more cardiovascular exercise, but I don't want to go out running in the cold, wind and rain. I also don't like the hassle and inefficiency of changing into and out of my training gear, leaving and returning home, and adding more clothes to my laundry basket.
With this exercise bike, I have it all streamlined. I now get up, unfold the exercise bike in front of my 55″ Samsung Series 6 LCD TV, do 30 minutes of riding in my night clothes whilst watching TV. I then put the bike away, plonk those sweaty night clothes in the wash, have a shower, then put on my clean clothes for the day.
Assembling the Confidence Foldable Exercise Bike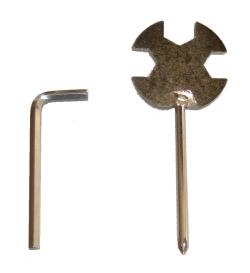 The Exercise bike comes partially assembled in the box. It comes with a brief, but well-illustrated assembly guide with all parts and tools required for assembly – an Allen key and a cross-wrench.
You only have to attach the feet, pedals, seat and handlebar. You then insert the supplied AA battery into the cycle computer, connect the wheel sensor cable and slide the cycle computer onto the metal tab located on the handlebars.
Tightening the locking nuts that fasten the seat to the seat post was difficult using the cross-wrench, and I did this much faster with a ring spanner that I had in my tool box.
I completed assembly of the foldable exercise bike in about 20 minutes, working at a leisurely pace.
Comments on Using and Improving the Foldable Exercise Bike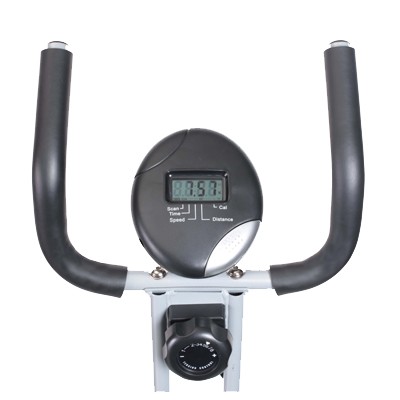 Sturdiness of the Exercise Bike
Despite its compact size, the bike feels sturdy to sit on. If you pressed extremely hard against the handlebars, you would probably bend them forward, but this would not happen with normal use.
Comfort of the Seat
A few reviewers said that they found the seat uncomfortable, but for me the seat is perfectly fine. Perhaps my buttocks have well distributed natural padding. If you want more comfort, you can buy an aftermarket gel seat cover that is designed for exercise bikes.
Straps on Pedals
I normally don't bother attaching the straps. I just turn the pedals over and rest my feet on top.
Magnetic Resistance Level
The resistance level could be stronger. I have set the resistance knob to the maximum setting of "8", and it's not very difficult, though I still work up a sweat and get my heart beating faster long before the end of my workout (usually 30 minutes). Although I am no athlete, at the tender age of 31 I am reasonably strong and healthy.
When I next have an opportunity, I will unscrew the plastic housing around the flywheel and see if there is any way I can increase the resistance. The tension knob is connected to a metal cable, so perhaps by adjusting the offset of the metal cable, I can increase the resistance level.
Tall/Heavy People
I am 6 feet tall. The seat post has three height positions, and I am using the highest one. When I am peddling, I can fully straighten my leg only when I am sitting at the very back of the seat.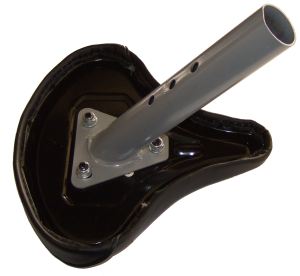 If you drill another hole in the seat post, you could get yourself up to another 3cm of height. If you make this modification, it may reduce the maximum weight that the bike can support (100kg).
Note that this modification is likely to void the warranty.
Cycle Computer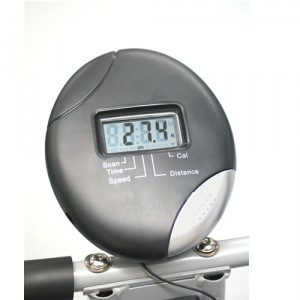 The cycle computer is easy to use. It automatically turns on whenever you start peddling, and turns off after 4 minutes of inactivity. While you are exercising, it automatically cycles between displaying the riding time, speed, distance, and calories burnt. By pressing the silver button, you can manually force it to display a different setting.
The only thing missing is a pulse sensor to monitor your heart rate. Confidence makes other pieces of exercise equipment with pulse sensors. I would have gladly paid more to have this capability, but I guess they positioned this device for low cost.
The obvious solution is to get one of those pulse/heart rate monitoring watches. They are very cheap on eBay.
Conclusion
If you need a compact exercise bike, this is a good choice
If your budget is tight, this bike provides excellent value for money
If you are an athlete, very tall or have the money and room in your home for a better exercise bike, go for that
Tags:
bike
,
exercise
,
portable
Posted in
Health and Fitness
|
No Comments »