Written by Vlad on July 10, 2011 – 2:21 pm - 13,843 views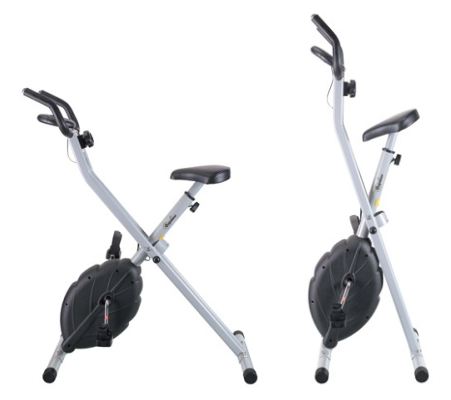 This is an exercise bike with a folding frame, designed to be easy to set up and put away when you're not using it. If you are short of space in your bedroom or living room, this is a godsend.
It has a magnetic resistance system with 8 resistance settings and a 4-function cycle computer that tracks your riding time, speed, distance, and calories burnt. The cycle computer is powered by a single AA battery, so no mains power is required.
It weighs 17kg (approx 37.5lbs), so it is easy for a single person to carry with two hands.
When unfolded, it takes up 88cm x 45.5cm (2.9ft x 1.5ft) of floor space, with a maximum height of 126.5cm (4.15ft)
When folded, it reduces to 52.5cm x 45.5cm (1.7ft x 1.5ft) of floor space, with a maximum height of 147cm (4.82ft)
It also features non-skid foot pedals with straps, and a height-adjustable padded seat.
I bought it on special for $100 from oo.com.au, during their end-of-financial year sale. It is also available on eBay.
Why I Bought The Confidence Folding Exercise Bike
Tags:
bike
,
exercise
,
portable
Posted in
Health and Fitness
|
No Comments »