Written by Vlad on July 10, 2011 – 2:21 pm - 14,599 views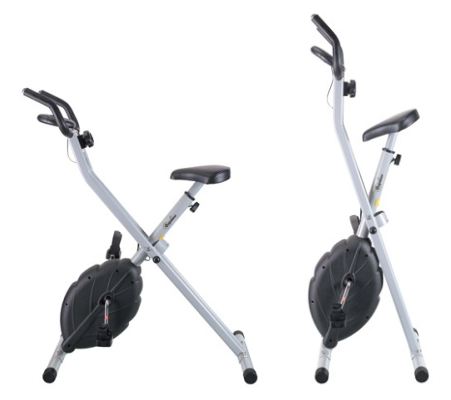 This is an exercise bike with a folding frame, designed to be easy to set up and put away when you're not using it. If you are short of space in your bedroom or living room, this is a godsend.
It has a magnetic resistance system with 8 resistance settings and a 4-function cycle computer that tracks your riding time, speed, distance, and calories burnt. The cycle computer is powered by a single AA battery, so no mains power is required.
It weighs 17kg (approx 37.5lbs), so it is easy for a single person to carry with two hands.
When unfolded, it takes up 88cm x 45.5cm (2.9ft x 1.5ft) of floor space, with a maximum height of 126.5cm (4.15ft)
When folded, it reduces to 52.5cm x 45.5cm (1.7ft x 1.5ft) of floor space, with a maximum height of 147cm (4.82ft)
It also features non-skid foot pedals with straps, and a height-adjustable padded seat.
I bought it on special for $100 from oo.com.au, during their end-of-financial year sale. It is also available on eBay.
Why I Bought The Confidence Folding Exercise Bike
Tags:
bike
,
exercise
,
portable
Posted in
Health and Fitness
|
No Comments »
Written by Vlad on September 9, 2010 – 4:24 pm - 6,446 views



The Skypix Portable Scanner performs colour and greyscale scanning with a maximum resolution of 600dpi. It is shaped like a wand, which you slide across the document you want to scan. This allows you to easily scan pages from books and magazines, which is not possible with portable page scanners, like the popular Fuji Scansnap series.
The scanned images are saved in JPEG format onto a MicroSD card. The scanner connects to your computer via a mini USB cable and it appears like a removable flash drive – all the scanned JPEG images are placed inside a folder.
It is powered by two standard AA batteries, which provide enough power for about 200 scans.
It weighs just 210g (7.4oz) and is 25.4cm (10″) long – 4.4cm (1.73″) longer than the width of a sheet of A4 paper. The Skypix portable scanner is 3.05cm (1.2″) tall and x 2.79cm (1.1″) wide. This makes it easy to fit into a backpack or handbag.
The scanner comes with a drawstring bag, mini USB cable and a CD with bundled OCR software.
I bought it on eBay for just under $100 including shipping.
Why I bought the Skypix Portable Scanner
Tags:
microSD
,
portable
,
scanner
,
Skypix
,
USB
Posted in
Computer Hardware
|
5 Comments »