Written by Vlad on August 10, 2010 – 4:07 pm - 1,133 views

This small USB card reader lets you use any SDHC card or MMC card as a USB drive on your PC. I got this from DealExtreme, and the best thing about this device is that it is small and for $1.87, it included shipping to Australia.
Why I bought the SDHC Card Reader
Tags:
card reader
,
ReadyBoost
,
SDHC
,
USB
Posted in
Computer Hardware
|
No Comments »
Written by Vlad on August 10, 2010 – 3:04 pm - 1,250 views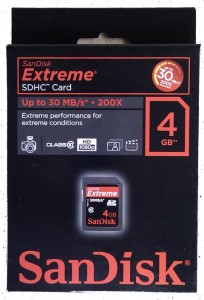 The Sandisk Extreme 30MB/s SDHC cards are currently the fastest Class 10 SD cards on the market, with a maximum read and write speed of 30MB/s. This makes them ideal for speeding up your computer with Windows 7 ReadyBoost and for speeding up your digital camera when taking continuous shots or transferring pics to and from your computer.
Why I bought the Sandisk Extreme 30MB/s SDHC card
Tags:
Class 10
,
Digital Camera
,
ReadyBoost
,
Sandisk
,
SDHC
Posted in
Computer Hardware
|
4 Comments »