Written by Vlad on August 10, 2010 – 3:04 pm - 1,290 views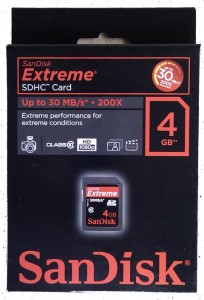 The Sandisk Extreme 30MB/s SDHC cards are currently the fastest Class 10 SD cards on the market, with a maximum read and write speed of 30MB/s. This makes them ideal for speeding up your computer with Windows 7 ReadyBoost and for speeding up your digital camera when taking continuous shots or transferring pics to and from your computer.
Why I bought the Sandisk Extreme 30MB/s SDHC card

One of the improved features of Windows 7 is ReadyBoost, where it can use a USB flash drive or MicroSD card w/ USB reader as a cache to speed up the computer. The reason why this works is because flash media usually has a random access time of around 1ms, compared to 8ms or more for a hard drive.
The Sandisk Extreme SD card is currently the fastest on the market. It is a Class 10 device and can read/write data at 30MB/s, which is not only faster than all other USB drives and SDHC card on the market, but even faster than many hard drives, especially 2.5″ drives that are installed on laptop computers.
ReadyBoost works best on systems that have less than 2GB of RAM and do not use SSD storage.
Whenever you plug in a USB flash drive into your system, Windows will automatically determine if it can be used for ReadyBoost.To enable ReadyBoost, you just have to right-click on the USB/Flash Drive icon in 'Computer' and select the option "Dedicate this device to Readyboost".
I had just upgraded my old Dell Inspiron 6000 laptop and my old Pentium 4 system to Windows 7. These systems only have 1.5GB of RAM. I would have loved to upgrade the RAM to 4GB on each of these, but they take the older DDR2 SODIMMs and DDR memory respectively, which are now harder to find and very expensive second hand – i.e. over $200 for 4GB – double or triple the price of modern DDR3 memory
By spending  $35 on eBay for a 4GB Sandisk Extreme SD card, I have been able to cheaply use ReadyBoost to get a bit more performance out of these systems. I have noticed the biggest improvement when starting up and shutting down, and when opening the browser windows.
My laptop already had an SD media slot, but for my desktop, I purchased a USB SD Card Reader very cheaply from DealExtreme, which I plugged into a rear USB port.
Other Uses:
Speed Up Continuous Shooting Mode on a Digital Camera
For photographers who take photos of sports events or live performances, having a high speed SD card may allow you to take multiple shots faster, as the camera will require less time to save them to memory.
Speed Up Image Transfers Between Your Camera and Computer
For people who take lots of photos on the move, this also reduces the time required to save photos and to transfer pictures to and from your computer.
Advice for Buyers
If you are going to buy on eBay, check to make sure that you are buying a genuine device and not a counterfeit. All the ads below are for devices being advertised as genuine, but take a look at buyer feedback as well.
Tags:
Class 10
,
Digital Camera
,
ReadyBoost
,
Sandisk
,
SDHC
Posted in
Computer Hardware
|
4 Comments »