Written by Vlad on January 19, 2011 – 12:00 am - 2,017 views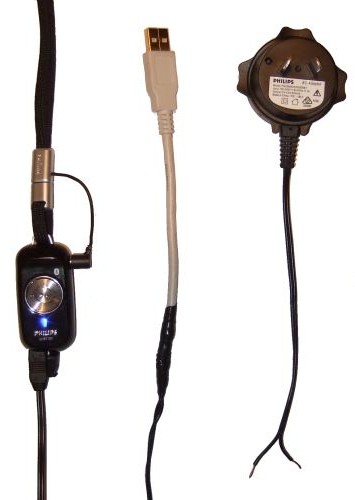 I own a pair of Philips SHB7100 Bluetooth earphones. They consist of a set of earphones connected to a pendant that hangs around your neck. The pendant contains the audio circuity, the Bluetooth radio and the internal battery. You control the earphones using the push buttons on the front of the pendant.
The SHB7100 came with a travel charger that made an annoying whining noise when it was recharging, and it was annoying me at night time. Furthermore, I did not want to carry around an additional recharger when travelling. I knew that I would find a way to solve this problem.
How I solved this problem
Tags:
bluetooth
,
Philips
,
USB
Posted in
Consumer Electronics
,
Gadget Diary
|
No Comments »
Written by Vlad on December 16, 2010 – 10:25 am - 1,543 views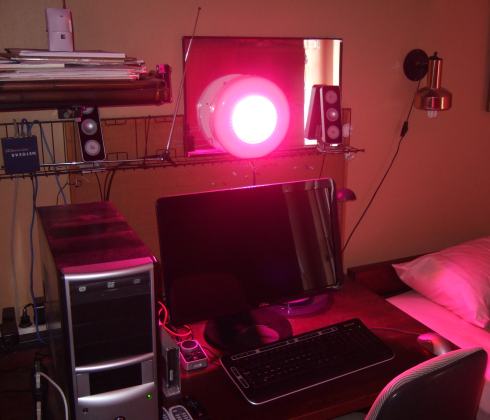 Last Saturday, I attended my former workplace's Christmas party. We spent the day at Taronga Zoo, and then were taken by water taxi to Darling Harbour, where we had dinner at an Italian restaurant named Criniti's, which had awesome wood fired pizzas.
It was a hot Summer day with a clear blue sky and by the end of the day, the skin felt burnt. My arms were red beyond the elbow (where my singlet ended). My nose, forehead and the front parts of my scalp where the hair is thinning were also red. You see, I woke up late in the morning so I only applied my anti-aging moisturiser which only has a small degree of sun protection. It was my intention to borrow some SPF30+ sunscreen from someone else, but I forgot.
When I got home, I had a shower and then applied pure Aloe Vera gel to the tanned areas on my face and arms, followed by 20 minutes in front of my homemade light therapy machine. It is made from a product called a "UFO grow light" – a circular 90W LED lamp that produces red light at a wavelength of 660nm, and blue light at 460nm,. These wavelengths represent the peak energy bands that are absorbed by plants to provide energy for photosynthesis, so these lamps are popular with indoor horticulturists who want to reduce their electricity bills.
But I am not a plant, so why would I use this on myself? Light in the red to infrared regions beyond (600nm and above) has been scientifically shown to speed up wound healing, so I thought it would be appropriate to try it it on my sunburns. I have conveniently mounted this light on a cork board behind my monitor, so whilst I am working at the computer, I can enjoy a LED light facial treatment without any interruptions to my routine. The 660nm red and 460nm blue light also have other therapeutic uses in humans, but I will leave these for my other upcoming article on light therapy. The light is controlled by my Efergy RF Remote Controlled power switch. I keep the remote control next to the keyboard.
Two days later when I visited my city office, my colleagues commented that there were no signs of sunburn on my face, and I felt no more burn sensations on that area. My arms, which I did not treat, had darkened and still felt burnt several days later. Even now, they feel a bit sensitive when I pinch the skin. Overall, I really think it helped. Nonetheless, I would still prefer to use SPF30+ sunscreen rather and not get burnt.
Tags:
LED
,
light therapy
,
photosynthesis
,
sunburns
,
UFO Grow Light
,
wound healing
Posted in
Consumer Electronics
,
Gadget Diary
|
No Comments »
Written by Vlad on December 13, 2010 – 12:02 am - 1,220 views
It was really hot here in Sydney on Saturday night, so I went to Woolies, just before midnight, to get myself some cold bottles of soda water and Pepsi Max. There was only one checkout open, and the customer there had a lot of items, so I reluctantly went to the self-checkouts – the ones where you scan your goods yourself.
The reason why I hate using them is because I find it a pain in the backside to open the plastic bags. They are all pressed together flat and stuck to each other. This means that you have to put all your shopping down to use both hands, to separate one plastic bag from the others and then to pry it apart so you can put your shopping inside.
What Woolies (and the other supermarkets) need is a machine that can automatically separate and open a single bag – say when the customer presses a button next to the scanner. This would greatly speed up the handling of purchases and help make them more money.
Does anyone know if such a machine exists? If so, please leave a comment. Otherwise, perhaps I will invent one.
Tags:
plastic bag
,
supermarket
Posted in
Gadget Diary
|
No Comments »
Written by Vlad on December 6, 2010 – 11:43 pm - 921 views
I visit my grandparents regularly on Sundays. They are almost 90 years old and live in North Bondi.
A while ago, I bought them the Economy Digital Set Top box, which Jaycar Electronics sells for $29.95, so they could watch the new DVB-T digital channels on their old LG Flatscreen TV (purchased in 1999, but still in good shape). Unfortunately, they struggled to use it for the following reasons:
1. Their LG TV has several AV inputs, but unfortunately, when you power cycle the TV, it always goes back to the analogue TV mode. They subscribe to Russian language Satellite TV, and the descrambler was already connected to AV1, so I had to connect the set top box to AV2. The procedure of pressing the input select button twice to switch to AV2 was very confusing for them.
2. Furthermore, although the Digital STB reception was fine for most channels, they could not get any digital reception for ABC TV. Their analogue reception for ABC was bad, but still watchable. As you know, digital TV does not gracefully degrade in bad signal conditions – it is "All or Nothing". This means that they would have to switch to analogue for ABC, and switch back to digital to get the remainder in top quality. It was also confusing for them to understand why there were multiple version of the same channels (the analogue version and the digital version).
3. The remote control for the Economy STB is quite tiny, and if you don't release the channel up or channel down buttons fast enough, it will repeat the command and skip over a few channels. Not a problem with my nimble fingers, but difficult for them.
My Solution
I tried giving them a programmable remote control, but this did not help. They were confused by the plethora of buttons. They kept pressing the wrong one, and putting the remote into the wrong mode. As a result, they seldom watched channels on the Digital Set Top Box. It was frustrating for me to see them struggle to do something that I thought was intuitive, but I vowed not to give up to help them.
After analysing the situation, I understood that their struggle was state-based decision making. They struggle when the required sequence of button presses depends on the current state of the TV, i.e. whether the TV is on or in standby mode, whether it is listening to the AV1 input of the old analogue channels. They need the simplest possible procedure that is state independent, i.e. combinatorial logic.
I knew I could solve problem 3 by lending them my spare Teac SDB452 SD Set Top Box with PVR. It has a larger remote with bigger buttons, and when you press the channel up and channel down buttons, it only sends the command once, even if you hold down the button. To my amazement, this set top box was able to receive ABC TV almost perfectly (every now and then, there are some noise artifacts, but it is still watchable). This solved problem 2 – they would now have no reason to watch Analogue TV, which will be shut down by 2013 anyway.
The only problem now was problem 1. The only easy solution was to reconnect the composite outputs of the Digital STB to an RF modulator, to allow it to be accessed as an analogue TV channel on the LG TV. I would never ever do this for myself, as the modulation processes reduces the image quality a bit, but it wouldn't make any real difference to them. I programmed it so channel 6 on the LG TV was tuned to the RF modulated signal from the Teac STB. As a result – when they turn on their TV, it will default to the last analogue channel that they were on, which will almost always be channel 6. All their Australian channel selections will be made using the Teac SDB-452 remote.
This was the final outcome:
To watch Russian TV, all they do is press the AV input select button on their main LG remote, and then use the remote for the Russian Satellite descrambler to select the Russian channel
To watch Digital TV, all they do it press the channel 6 button on their main LG remote, and then use the remote for the Teac STB to select the Digital TV channel
If they power cycle the TV, it will go back to channel 6, so it will respond to the Teac STB remote automatically. There should never be a reason to change the analogue channel on the TV from 6.
Tags:
Digital TV
,
RF Modulator
Posted in
Gadget Diary
|
No Comments »