Written by Vlad on December 16, 2010 – 10:25 am - 1,600 views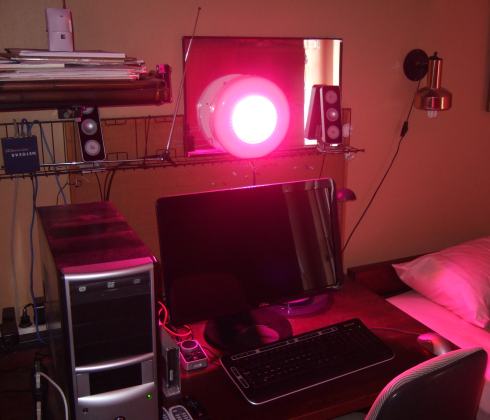 Last Saturday, I attended my former workplace's Christmas party. We spent the day at Taronga Zoo, and then were taken by water taxi to Darling Harbour, where we had dinner at an Italian restaurant named Criniti's, which had awesome wood fired pizzas.
It was a hot Summer day with a clear blue sky and by the end of the day, the skin felt burnt. My arms were red beyond the elbow (where my singlet ended). My nose, forehead and the front parts of my scalp where the hair is thinning were also red. You see, I woke up late in the morning so I only applied my anti-aging moisturiser which only has a small degree of sun protection. It was my intention to borrow some SPF30+ sunscreen from someone else, but I forgot.
When I got home, I had a shower and then applied pure Aloe Vera gel to the tanned areas on my face and arms, followed by 20 minutes in front of my homemade light therapy machine. It is made from a product called a "UFO grow light" – a circular 90W LED lamp that produces red light at a wavelength of 660nm, and blue light at 460nm,. These wavelengths represent the peak energy bands that are absorbed by plants to provide energy for photosynthesis, so these lamps are popular with indoor horticulturists who want to reduce their electricity bills.
But I am not a plant, so why would I use this on myself? Light in the red to infrared regions beyond (600nm and above) has been scientifically shown to speed up wound healing, so I thought it would be appropriate to try it it on my sunburns. I have conveniently mounted this light on a cork board behind my monitor, so whilst I am working at the computer, I can enjoy a LED light facial treatment without any interruptions to my routine. The 660nm red and 460nm blue light also have other therapeutic uses in humans, but I will leave these for my other upcoming article on light therapy. The light is controlled by my Efergy RF Remote Controlled power switch. I keep the remote control next to the keyboard.
Two days later when I visited my city office, my colleagues commented that there were no signs of sunburn on my face, and I felt no more burn sensations on that area. My arms, which I did not treat, had darkened and still felt burnt several days later. Even now, they feel a bit sensitive when I pinch the skin. Overall, I really think it helped. Nonetheless, I would still prefer to use SPF30+ sunscreen rather and not get burnt.
Tags:
LED
,
light therapy
,
photosynthesis
,
sunburns
,
UFO Grow Light
,
wound healing
Posted in
Consumer Electronics
,
Gadget Diary
|
No Comments »