Written by Vlad on July 11, 2011 – 7:27 pm - 4,674 views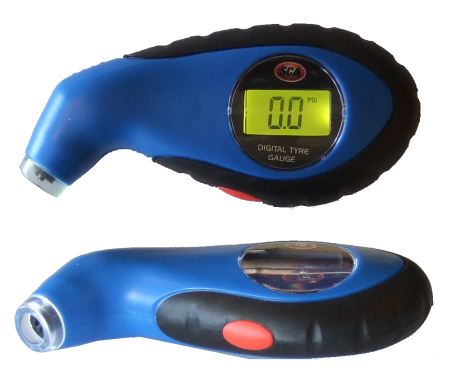 The SCA Digital Air Pressure Gauge lets you quickly and accurately measure the air pressure in your car and bicycle tyres.
The pressure gauge is fully electronic and displays the measured air pressure on a four digit LCD display. Unlike other models, both the LCD display and measurement tip are illuminated by LEDs, to help you easily find the valve stem on your tyre and read the LCD display at night time, or in a dimly lit garage where it's dark.
It supports all common units of air pressure including Pounds per Square Inch (PSI), Kilopascals (kPa), Bars and Kilogram Force per Square Centimetre (Kg/cm2). According to online specifications, the digital air pressure gauge is accurate to 0.5 PSI (3.45 kPa / 0.034 bars / 0.035 kgcm-2).
It weighs 61g (2.15oz) and measures 10.8cm × 4.85cm × 2.3cm (4.25in x 1.91in x 0.91in), so it is compact enough to stash in your car glovebox or cycling backpack.
I purchased it from Supercheap Auto for $19.99. Identical digital air pressure gauges are available on eBay for $10 or less, marked with the brand names "Jinmao" and "Airsoon". The only difference I can see is that most of the ones on eBay are yellow instead of blue.
Why I purchased the SCA Digital Air Pressure Gauge
Tags:
air pressure
,
bicycle
,
car
,
gauge
Posted in
Tools
|
No Comments »
Written by Vlad on July 9, 2011 – 11:49 am - 7,749 views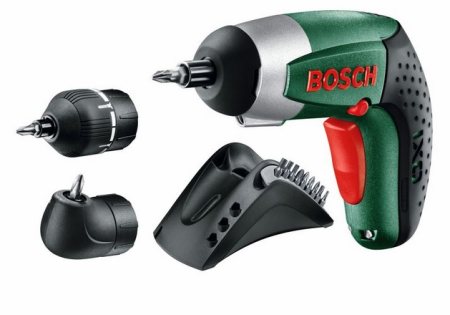 The Bosch IXO Cordless Screwdriver is a portable motorised electric screwdriver. It is shaped like a cute little mini-raygun from a 1950's sci-fi movie and is very comfortable to hold in the hand. It has a 3.6V electric motor and is powered by an inbuilt Lithium Ion battery. The screwdriver's bit holder takes standard screwdriver bits with hex socket heads. To help you see where you are screwing, there is a yellow LED torch located below the hit bolder that illuminates the surface directly in front of the bit.
The Bosch IXO III boxed set comes in a metal tin that also contains:
10 screwdriver bits including 4 Philips Head, 2 Flat Head, 2 Torx (star) and 2 Hex
The charger, which also serves as a cradle and bit holder
A torque-limiting adapter, with 9 different torque settings, to prevent you from accidentally screwing things in too far, damaging the screw head, thread or hole
A right-angle adapter, that allows you to drive screws at a 90 degree angle, for screws located in awkward locations
I purchased it from my local ThriftyLink hardware store for $120.
Why I Bought the Bosch IXO Cordless Screwdriver
Tags:
bosch
,
cordless
,
screwdriver
Posted in
Tools
|
No Comments »
Written by Vlad on April 29, 2011 – 9:58 pm - 11,338 views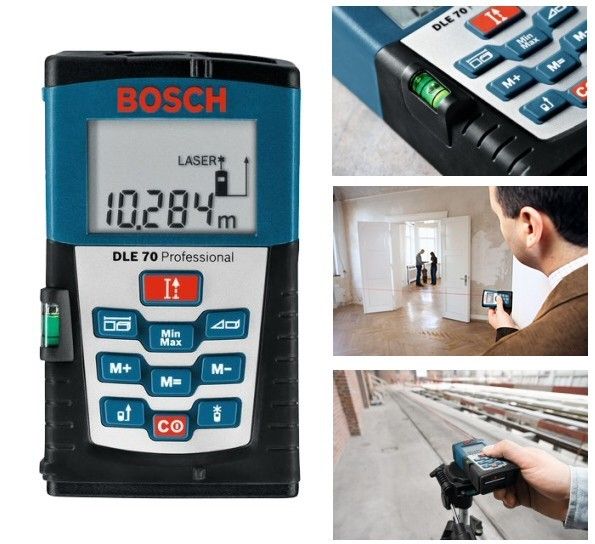 The Bosch DLE 70 is a portable laser rangefinder (distance measurement device). You use it like a laser pointer to mark any target object whose distance you want to measure, and then press a button. The rangefinder will then display the distance to the target on the LCD display. The DLE 70 can measure any distance between 5cm and 70m with an accuracy of plus/minus 1.5mm. This is a fantastic replacement for tape measures and ultrasonic distance measuring tool.
It weighs 185g (6.3oz) and is powered by 4 AA batteries. It dimensions are 9.8cm x 5.8cm x 2.7cm (3.86in x 2.28in x 1.08in) – about the size of two small tape measures next to each other – and it comes with a handy belt holster.
It retails in Australia for around $270. I purchased it on eBay for $170, inclusive of shipping.
Why I bought a Laser Distance Measuring Tool
Tags:
bosch
,
laser
,
laser pointer
,
measuring tool
,
rangefinger
Posted in
Tools
|
2 Comments »
Written by Vlad on January 23, 2011 – 11:13 am - 2,871 views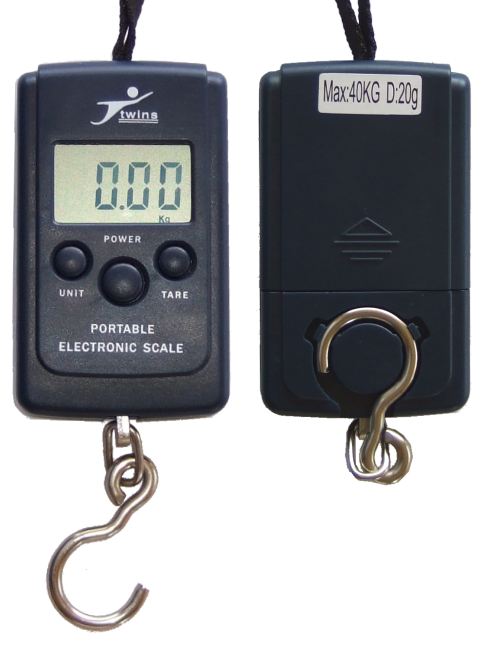 When travelling by plane, have you ever checked in at the airport counter only to be told that your luggage is overweight? All those cool gifts, souvenirs and duty free items pushed you beyond your allowed limit (usually between 20-25kg per person).
Any number of things could have resulted:
The attendant was nice and let your overweight baggage through
You hastily opened your suitcase and unloaded gifts, alcohol or even clothes to reduce weight. Maybe you had friends or family nearby to take them off your hands. If you didn't, you probably had no option but to throw them away
You were forced to pay an extra fee. $100/kg per extra kilogram beyond your normal limit is not uncommon.
If you had this portable luggage scale, you could have avoided the problem. You would be able to determine exactly how much you're carrying with you at any point in time.
The portable digital scale weighs only 75g and is powered by two 1.5V AAA batteries. Because it is a hanging scale, it needs no platform or pedestal, so it's only 10cm x 5cm x 2cm (approx 4″ x 2″ x 0.8″) in size.
It can weigh anything that hang be hung on the hook. When the scale is not in use, the hook nests securely in a groove at the back of the scale, so it won't dangle or snag other items when being transported.
This scale can weight any object from 20g up to 40kg, and it can display the weight in units of kilograms (kg), pounds (lbs) and ounces (oz).
It has a tare button to zero and reset the scale – useful if you want to weigh something in a container.
The scale also has an intelligent lock feature – the scale will wait until the object weight reading has stabilised, then it will hold the weight reading on the screen, so you can take the object off and record the reading.
To extend battery life, the scales will automatically turn off after 60 seconds of inactivity, and the scales will also warn when the battery is low.
Why I bought the Portable Digital Luggage Scales
Tags:
baggage
,
luggage
,
scale
Posted in
Consumer Electronics
,
Tools
|
No Comments »