Written by Vlad on January 23, 2011 – 11:13 am - 2,997 views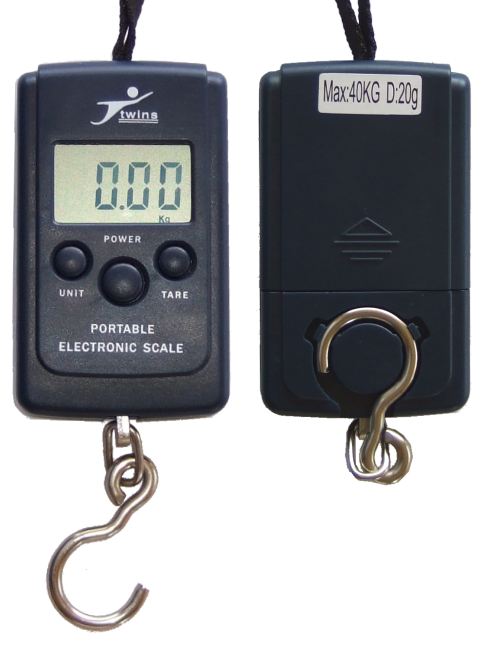 When travelling by plane, have you ever checked in at the airport counter only to be told that your luggage is overweight? All those cool gifts, souvenirs and duty free items pushed you beyond your allowed limit (usually between 20-25kg per person).
Any number of things could have resulted:
The attendant was nice and let your overweight baggage through
You hastily opened your suitcase and unloaded gifts, alcohol or even clothes to reduce weight. Maybe you had friends or family nearby to take them off your hands. If you didn't, you probably had no option but to throw them away
You were forced to pay an extra fee. $100/kg per extra kilogram beyond your normal limit is not uncommon.
If you had this portable luggage scale, you could have avoided the problem. You would be able to determine exactly how much you're carrying with you at any point in time.
The portable digital scale weighs only 75g and is powered by two 1.5V AAA batteries. Because it is a hanging scale, it needs no platform or pedestal, so it's only 10cm x 5cm x 2cm (approx 4″ x 2″ x 0.8″) in size.
It can weigh anything that hang be hung on the hook. When the scale is not in use, the hook nests securely in a groove at the back of the scale, so it won't dangle or snag other items when being transported.
This scale can weight any object from 20g up to 40kg, and it can display the weight in units of kilograms (kg), pounds (lbs) and ounces (oz).
It has a tare button to zero and reset the scale – useful if you want to weigh something in a container.
The scale also has an intelligent lock feature – the scale will wait until the object weight reading has stabilised, then it will hold the weight reading on the screen, so you can take the object off and record the reading.
To extend battery life, the scales will automatically turn off after 60 seconds of inactivity, and the scales will also warn when the battery is low.
Why I bought the Portable Digital Luggage Scales
Tags:
baggage
,
luggage
,
scale
Posted in
Consumer Electronics
,
Tools
|
No Comments »