Written by Vlad on July 9, 2011 – 11:49 am - 7,745 views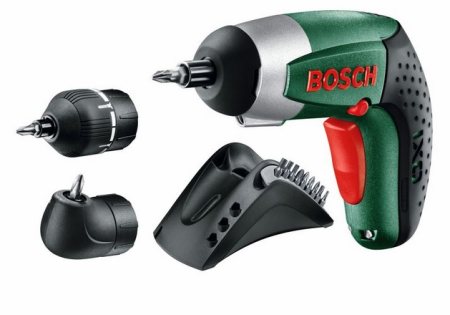 The Bosch IXO Cordless Screwdriver is a portable motorised electric screwdriver. It is shaped like a cute little mini-raygun from a 1950's sci-fi movie and is very comfortable to hold in the hand. It has a 3.6V electric motor and is powered by an inbuilt Lithium Ion battery. The screwdriver's bit holder takes standard screwdriver bits with hex socket heads. To help you see where you are screwing, there is a yellow LED torch located below the hit bolder that illuminates the surface directly in front of the bit.
The Bosch IXO III boxed set comes in a metal tin that also contains:
10 screwdriver bits including 4 Philips Head, 2 Flat Head, 2 Torx (star) and 2 Hex
The charger, which also serves as a cradle and bit holder
A torque-limiting adapter, with 9 different torque settings, to prevent you from accidentally screwing things in too far, damaging the screw head, thread or hole
A right-angle adapter, that allows you to drive screws at a 90 degree angle, for screws located in awkward locations
I purchased it from my local ThriftyLink hardware store for $120.
Why I Bought the Bosch IXO Cordless Screwdriver
Tags:
bosch
,
cordless
,
screwdriver
Posted in
Tools
|
No Comments »
Written by Vlad on April 29, 2011 – 9:58 pm - 11,335 views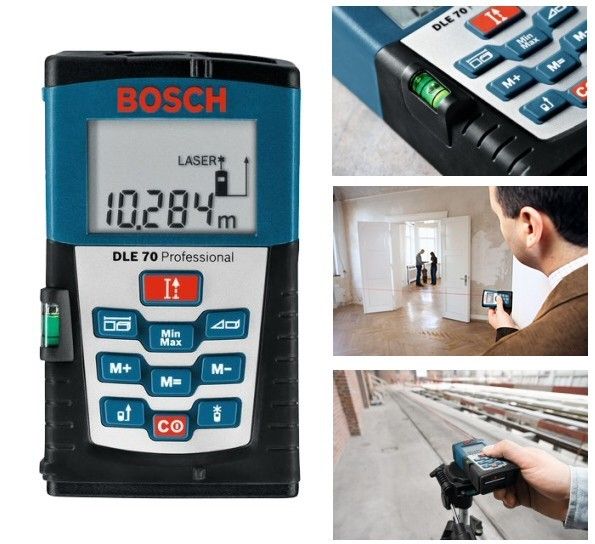 The Bosch DLE 70 is a portable laser rangefinder (distance measurement device). You use it like a laser pointer to mark any target object whose distance you want to measure, and then press a button. The rangefinder will then display the distance to the target on the LCD display. The DLE 70 can measure any distance between 5cm and 70m with an accuracy of plus/minus 1.5mm. This is a fantastic replacement for tape measures and ultrasonic distance measuring tool.
It weighs 185g (6.3oz) and is powered by 4 AA batteries. It dimensions are 9.8cm x 5.8cm x 2.7cm (3.86in x 2.28in x 1.08in) – about the size of two small tape measures next to each other – and it comes with a handy belt holster.
It retails in Australia for around $270. I purchased it on eBay for $170, inclusive of shipping.
Why I bought a Laser Distance Measuring Tool
Tags:
bosch
,
laser
,
laser pointer
,
measuring tool
,
rangefinger
Posted in
Tools
|
2 Comments »