Written by Vlad on August 11, 2010 – 12:41 pm - 2,987 views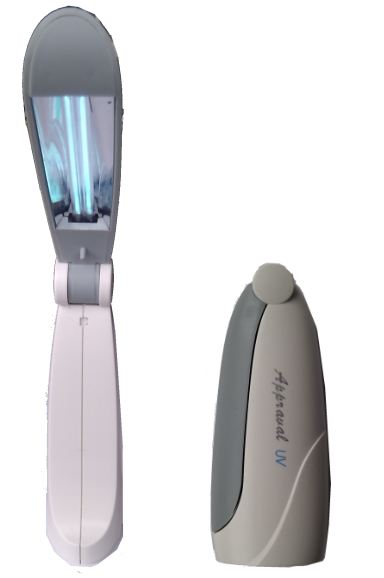 The Portable UV Sterilizer makes it easy to kill germs on surfaces that cannot easily be washed, such as computer keyboards and telephone keypads. It works by generating UV-C light with a peak wavelength of 253.7nm, which damages the DNA and RNA in pathogens such as viruses and bacteria, making them inactive and preventing them from growing or reproducing.
I bought this on eBay for just under $20 including shipping. It takes four AAA batteries. The specifications state that it generates 2W of light output and weights 65g. The expected lifetime of the UV tube is 10,000 hours.
Why I Bought the Portable UV Sterilizer
It has long been known that germs are transmitted when people touch shared surfaces that are seldom cleaned. The worst culprits are keyboards, phones, ATM keypads and fixtures on public transport. The first two are difficult to clean using traditional cleaning fluids without damaging the electronics inside. For this reason, they are often dirty.
I purchased this device to allow me to disinfect the keyboards and phones at work and at home, so I could be confident about cleanliness in the places where I spent most of my time.
The device has a clamshell design with a hinge on top. The UV tube is contained within the grey section that nests into the white housing. You open the wand by lifting the bottom edge of the grey tube housing and it automatically turns on. The light from the bulb has a light-blue glow, but you should avoid looking at it directly, as it is harmful to the eye.
You then move the wand in a sweeping or scanning motion across the surface to be disinfected, holding it as close as possible until you have covered every part. It is stated that 20 seconds of exposure from a distance of 6cm should kill 99.9% of germs, though I have not done my own tests using a petri dish.
Other Uses for the UV Sterilizer Wand
This would be useful for disinfecting anything that cannot be washed because it can be damaged by fluids, i.e. electronic devices, appliances, documents that have been handled by someone with a cold or flu.
Also, if would be useful if you are not near running water or detergent, i.e. disinfecting cooking utensils on a camping trip.
More Information
Tags:
disinfect
,
germicidal lamp
,
UV Sterilizer
Posted in
Health and Fitness
|
No Comments »