Written by Vlad on August 12, 2010 – 12:40 pm - 2,461 views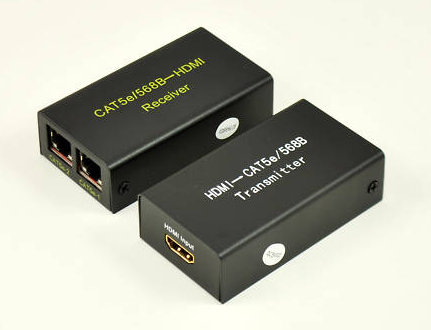 HDMI over Cat 5 extenders lets you extend the distance between any HDMI-equipped DVD player, Media Centre PC or Games Console and your TV screen using cheap Cat5 or Cat6 network cable. The most common use for HDMI extenders is when you have a large Plasma or LCD TV that is located far away from your Stereo or Hi-Fi cabinet.
The extender consists of two components – a transmitter, which connects to the HDMI output device, and a receiver, which connects to the HDMI input of your LCD or Plasma TV.
The transmitter and receiver are then connected over a longer distance by two lengths of Cat-5 cable. One Cat5 cable carries the HDMI DDC (control) signals and the other Cat-5 cable carries the HDMI Video and Audio signals.
Why I Bought the HDMI over Cat 5 Extender

I recently bought a Giada N10 NetTop PC to use as my Media Centre PC, for playing DVDs, Recording TV programmes, watching YouTube videos and entertaining guests.
I installed it inside my Hi-Fi unit, so that I could connect the Giada N10 Media Centre PC to my stereo amplifier and VCR.
Unfortunately, the Hi-Fi unit is located in the back of my living room, far away from my 55″ Samsung LCD TV. The distance between them along the wall is about 15 metres, which is far longer than any normal HDMI cable can reach.
I found a great deal for a powered extender on eBay for about $50, compared to $120 in the shops. I then went to my local hardware store, Sunlite Electrical, and purchased three 4m lengths of 25x16mm Aussie Duct plastic ducting and attached it underneath the cornice between the wall and the ceiling using strong double-sided tape. I purchased 30 metres of Cat-6 cable from my local electronics store, Jaycar Electronics and crimped the RJ-45 connectors myself using a crimping tool (also sold at Jaycar).
Tips when Buying and Installing an HDMI Extender
Ensure Support for High Definition 1080p
Make sure that the extender supports 1080p (1080 lines with progressive scan) and not just 1080i (1080 lines interlaced).
Using Cat-6 Cable
Use Cat-6 cable if you can – it is only slightly more expensive than Cat-5 and is likely to provide better reliability for 1080p resolution, especially over a long length of cable.
If you are going to crimp the cable yourself, it is much easier attach Cat-5 rated RJ-45 connectors to Cat-6 cable.
As part of the process of crimping the connector onto the cable, you generally have to remove some insulation from the end of the cable and untwist the four copper pairs to allow you to insert them into the connector. Cat-5 rated RJ-45 connectors have little plastic channels inside them that straighten out the copper wires as you insert them. Cat-6 connectors do not have these channels, and it is a real pain to line up the cable yourself, and it is easy to make a mistake and accidentally transpose some wires. I am sure some professional cable installers would frown on the idea of attaching Cat-5 connectors to Cat-6 cable, but from an electrical point of view, I consider the difference to be insignificant.
Also be aware that Cat-6 cable has a stiff plastic spine in the middle of the cable, and you will have trim some of that off the end as well.
Self-Powered or Externally Powered HDMI Extenders
Active HDMI extenders have inbuilt amplifiers/buffers to maintain the quality of the HDMI signals, as they are weakened over a distance.
There are two types available – self-powered ones that draw power from the HDMI cable, and other ones that use a separate power supply. If you are intending to extend the HDMI cable over a long distance, I would recommend getting one that can use a separate power supply. This is because the HDMI interface is not designed to supply power to devices, and there only supports a small current draw. If the extender attempts to use more current the HDMI cable can supply (officially, 50mA maximum at 5V), you may get unreliable operation.
Other Uses for the HDMI Extender
Using DVI devices with the HDMI Extender
As HDMI is electrically compatible with the DVI standard that is often used for computer monitors and older Plasma & LCD TVs, all you need is a cheap HDMI to DVI adapter to use the HDMI extender with these devices.
Connecting to a DLP Projector or LCD Projector
You can also use this to connect a PC or DVD player to a Video Projector that has HDMI or DVI inputs. People often want to mount their projectors on the ceiling, especially if they are setting up a home theatre or conference room auditorium. Using the extender, it makes cabling much easier.
Tags:
DVI extender
,
extender
,
HDMI
,
HDMI extender
Posted in
Consumer Electronics
|
4 Comments »