Written by Vlad on August 26, 2010 – 11:27 pm - 1,912 views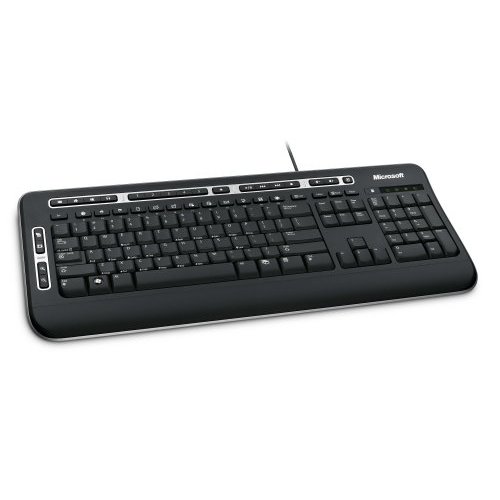 The Microsoft Digital Media Keyboard 3000 is sturdy, feels pleasant to type on and has a spill resistant design. It has extra hot keys for document editing and controlling media playback. It connects to your PC via USB. I paid $40 for it at Harvey Norman.
Why I Bought the Microsoft Digital Media Keyboard 3000

I've had to use many different keyboards over the years. I came to realise that having a crap keyboard doesn't really affect you much when you're just browsing the web, but when you're programming and writing documents, it can seriously affect your productivity and enjoyment of using the computer. After all, keyboards and mice are the only computer peripherals that you have prolonged and intimate physical contact with.
Some time ago, I was preparing a large spreadsheet on a cheap generic keyboard that came with my new Core 2 workstation, and I was getting annoyed because the keyboard buttons did not depress properly unless you pressed them at a perfect 90 degree angle. I visited Harvey Norman and found the Microsoft Digital Media Keyboard 3000. This is definitely the best keyboard I have ever used, and I ended up buying another one for my other desktop. This is what I like about it:
Spill Resistant Design
I now use my UV Sterilizing Wand for disinfecting my keyboards. Although the germs are gone, to wipe off dirt and debris, you still need cloth, some cleansing fluid and a bit of elbow grease. Having a spill resistant design means that I can clean it more easily without worrying about damaging it.
Black Colour
My monitor and tower case is black, so having a black keyboard makes it a matched set.
Key movement and action
The travel of the keys (the distance the keys can be depressed) is shorter than on other desktop keyboards, so you don't have to press then as far to register the key press. Nonetheless, the spring in each key is firm enough so that you can rest your fingers on them between keystrokes without accidentally pressing them. Another reviewer has likened the feel of the keys on the Microsoft Digital Media keyboard to that of a full-sized laptop keyboard.
Wired Keyboard
I knew that I only wanted a wired keyboard. Wired keyboards simply work. They do not need recharging or battery replacement.
Wireless keyboards have no place on desktop computers. Period. Desktop keyboards stay in one spot. Modern keyboards have USB interfaces and a USB cable can be extended up to 5 metres without a hub, so you should be able to connect up the keyboard no matter where you have placed the main unit.
At a previous workplace, they had Logitech DiNovo Cordless Bluetooth keyboards on the desktops. The battery would last for a couple of months and then run out in the middle of editing a document, and the Bluetooth connection would often have to be re-paired manually. I remember having to connect a wired keyboard on several occasions to get the wireless keyboard working again! On a final rant about that Logitech keyboard, it had some coating on the plastic that attracted dirt and oils from the skin, so the keyboards became filthy quickly. This had nothing directly to do with Bluetooth or being wireless, but I can't help thinking that those Logitech designers responsible for that keyboard were so caught up in the novelty of Bluetooth, that they forgot to think about the basic functionality. My message to you is to beware of all hardware devices that have excessive of bells and whistles, and there is a strong chance that something fundamental has been neglected.
Wireless keyboards can also be a security risk as there have been a number of weaknesses that allow hackers to spy on the wireless data, revealing the keys that have been pressed. This could mean compromised passwords and other confidential information.
I use a good wireless keyboard only on my Media Centre PC and maybe for public presentations.
No Ergonomic Design Nonsense
I have seen some strange curved keyboards that claim to be ergonomically designed. When I tried one, I felt that I needed to be born with rickets or some other bone deformity to use them. Most of these have disappeared from the market. For me, a straight keyboard is the most comfortable, and the Microsoft Digital Media Keyboard 3000 is straight.
Tips for Using the Microsoft Digital Media Keyboard 3000
Media Keys
I don't really have a need for most of the media keys, so I did not bother installing Microsoft's keyboard software on the bundled CD to enable them. I do however make frequent use of the audio mute, volume up and volume down keys, and these operate with the standard windows keyboard driver.
Press F Lock After Powering Up
When the keyboard is powered up, you have to press the "F Lock" key to get the F1-F12 function keys working normally, otherwise they will act as the special document editing keys.
Extend the Rear Feet
I type more comfortably with the two feet at the bottom rear of the keyboard extended, so that the rear is slightly elevated off the table and the keyboard is sloping down towards me.
Tags:
keyboard
,
Microsoft
,
USB
Posted in
Computer Hardware
|
1 Comment »