Written by Vlad on October 16, 2010 – 9:47 pm - 7,383 views
The VGA to TV converter lets you connect the VGA output of your PC/Laptop to any CRT TV, LCD TV, Plasma TV or VCR via the composite video input or S-Video input.
Many modern laptops and desktops come with high-end video cards that natively support composite video output from the VGA connector. For these systems, all you need is a simple adapter cable that connects the composite output to the correct pins on the VGA connector. Unfortunately, many older computers and even modern budget computers often don't.
Why I Bought the VGA to TV Video Signal Converter

My Giada N10 Nettop PC, that I use as my media centre, does not have a composite video output. Before I purchased my HDMI-equipped Samsung 55″ LCD TV, I needed to convert the VGA output to a composite video output to I could use it on my old TV. After I got my new TV, one of my HDMI cables was bad, so using this converter, I was able to diagnose the problem with the cable using my old TV.
Also, I once had to give a Powerpoint presentation in an old pub that had a broken projector, using someone else's old laptop. Using the converter, I was able to connect it to the pub's big old CRT TV and finish my presentation.
Features of the VGA to TV Video Signal Converter
The converter automatically detects and converts multiple VGA resolutions including:
640×480 at refresh rates of 60/72/75/85Hz
800×600 at refresh rates of 60/75Hz
1024×768 at refresh rates of 60/75Hz
1280×1024 at a refresh rate of 60Hz.
The VGA to TV converter also has a pass-through VGA output port, so you can simultaneously view the computer screen on your regular VGA monitor while viewing the video on your TV or projector.
In fact, all three video outputs are active at the same time, so if you wanted, you could connect the device simultaneously to a VGA monitor, a TV composite input and a VCR S-Video input.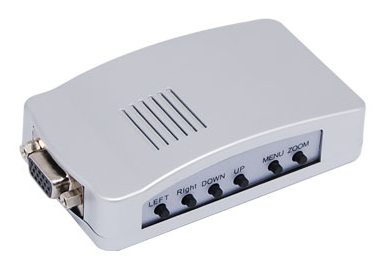 It supports both PAL and NTSC video standards, with overscan and underscan display modes to fit more lines on the screen. It has an intelligent On-Screen Display (OSD) with simple push-button controls to adjust the vertical and horizontal size, position and the colour settings.
It draws its power from a spare USB port, but you can connect it to any 5V supply or a dedicated mains USB charger, like those that you use to charge iPods and MP3 players.
It is compact, weighing 484g (1 pound) and measuring 10cm (3.9in) x 6.1cm (2.4in) x 2.6cm (1.02in)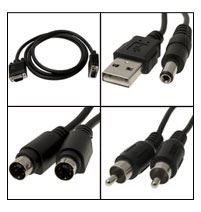 The package includes:
One USB Power Cable (USB A Plug to DC Jack Plug)
One VGA Cable (DB15 Male to DB15 Male)
One RCA Video Cable (Male to Male)
One S-video Cable (4-pin Male to 4-pin Male)
User Manual
Tips for getting best performance
If you are connecting it to the composite input, note that the PAL and NTSC video standards can only accurately render a VGA resolution of 640×480. Although the converter box supports VGA resolutions much higher than this, the images will be downscaled, so they will look less sharp on a TV and text may be hard to read
If your TV or VCR is equipped with an S-Video port, it will give you an improved image quality
Other Things You Can Do With the VGA to TV Video Signal Converter
1. Use a spare TV as a second or third PC monitor
This is useful for multi-screen games, or people who do image or non-linear video editing. The TV can be used for queuing video clips and testing effects. You will need a video card that supports multiple monitors (most modern nVidia and ATI video cards do), or you'll need to add an extra video card to your PC.
2. If you have guests or family visiting you and want to present a photographic slideshow or movies from your PC/Laptop
3. Record a PC Powerpoint Presentation or Video onto a VHS Video Cassette using a VCR
Don't laugh. You may be in a situation where you need to show someone a presentation or video on old VCR equipment, e.g. if travelling overseas or going to an underdeveloped country, or simply if you find yourself in a situation where nothing else works!
4. Connect it to a Video transmitter, so you can watch PC movies on a TV in another room
On the market, there are 2.4 GHz and 5.8 GHz Video Transmitter/Receiver devices that designed for people who want to transmit from their cable TV decoder box to a TV in another room. You can also use these devices for transmitting from a PC to a TV in another room. Just connect the S-Video or Composite output of the Converter box to the transmitter.
5. Use it together with the Universal RF modulator to watch it on an even older TV
If your TV is so old that it doesn't have a composite video input, you use the universal RF modulator together with th VGA to TV signal converter box to solve this problem.
6. Make your own Computer-controlled Analogue TV station with the Universal RF Modulator
Yep, the Universal RF modulator is effectively a UHF TV transmitter. If you are good with electronics and have a directional antenna, you could possibly even amplify the signal and create your own mini analogue TV station, with all programming controlled from your PC. Make sure that you read up on the local laws in your area regarding unlicensed radio transmission to ensure that you are not effectively running a 'pirate' TV station, which could get you into trouble.
Tags:
composite video
,
converter
,
S-Video
,
TV
,
VCR
Posted in
Computer Hardware
,
Consumer Electronics
|
10 Comments »