Written by Vlad on August 25, 2010 – 2:19 pm - 3,738 views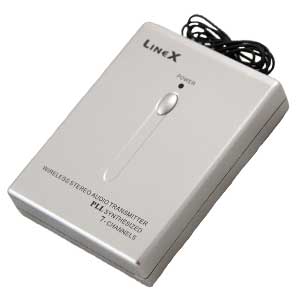 The LineX Stereo FM transmitter transmits any stereo audio signal that you connect to its 3.5mm jack. This can be from any audio device including your iPod, MP3 player and CD player. You can receive it on any FM radio on 7 selectable channels. Unlike other transmitters designed for cars, it is battery powered and this works in your home, outdoors and when carried around. It uses a PLL to ensure a stable transmitting frequency.
I paid about $35 for it on eBay.
Why I Bought the LineX Stereo FM Transmitter

I hosted a dinner party some time ago, and I planned to screen a movie using my laptop and a borrowed LCD projector. I needed to get the audio from my laptop to my Hi-Fi system, so we could hear the movie soundtrack on my wall-mounted speakers. The obvious solution was to connect my laptop's audio output to a battery-powered FM transmitter and receive it on my Hi-Fi's FM radio receiver. I visited the local electronics store and purchased a battery-powered FM transmitter that was designed for transmitting from a CD or MP3 player to a car radio. To my shock, when I tried it at home, the sound quality was really bad. From more than 2 metres away, the received sound was noisy with lots of static. I exchanged it for another model, also designed for cars, and got a similar result.
Naturally, it was time to consult google. I found a recommendation for the LineX Stereo FM transmitter on the Australian Overclocking enthusiasts site overclockers.com.au. I located it on eBay, sold by a person in the UK.
Features of the LineX Stereo FM Transmitter
Stable Frequency
This device was designed to be extra-stable, as it uses a PLL (Phase-Locked Loop) circuit to ensure that it maintains a constant transmitting frequency. When I held it in my hand and moved it around, it kept working well.
Can select 7 frequencies on the FM band
It has three DIP switches on the side that let you choose between 7 frequencies – 88.0Mhz, 88.2Mhz, 88.4Mhz, 88.6Mhz, 88.8Mhz, 89.0Mhz and 89.2Mhz. This makes it easier to find a free spot on the FM band of your radio that is not being used by a local radio station.
Long battery life
It takes three AA batteries and provides up to 150 hours of battery life.
High audio bandwidth
It transmits on FM stereo with a full audio bandwidth of 30Hz – 15Khz, which results in a higher quality sound – less than CD quality, but very good for FM radio.
How to use the LineX Stereo FM Transmitter
The FM transmitter has a standard 3.5mm stereo audio jack. You simply connect it to the output of a mp3 player, CD player, musical instrument or any audio device. You then press the power button on the front.
Connecting XLR microphones to the 3.5mm jack
I recommend the Hosa MIT-156 audio matching transformer. This is an adapter consisting of a 3-pin male XLR socket at one end, and a 3.5mm stereo jack at the other. It converts the low impedance microphone signal to a high impedance signals appropriate for connecting to a computer line-in socket or the LineX Stereo FM transmitter.
Tuning it in on your FM Radio
Before turning it on, scan the FM band on your radio across all the supported transmitter frequencies, 88.0Mhz, 88.2Mhz, 88.4Mhz, 88.6Mhz, 88.8Mhz, 89.0Mhz and 89.2Mhz. The best channels to use are those that have just noise/static. This means that there is no radio station transmitting on that frequency. Here in Sydney, this is hard to find because we have lots of FM stations, but you are likely to find at least one of the above channels free.
The manual for the LineX Stereo FM transmitter shows how to set the DIP switch settings to match each of the above frequencies.
Antenna orientation for maximum range
For maximum range, make sure that the antenna of the LineX Stereo FM transmitter has the same orientation as the antenna of your FM receiver. i.e. if the antenna wire is vertical, your FM radio's antenna should also be vertical. If you let the antenna wire lie flat on a table, then the antenna of your FM radio should also be horizontal. This is to ensure that the correct polarization of the signal is maintained.
Other Things I Have Used the LineX Stereo FM Transmitter For
Playing music from my dinner table
Before I made my own mini music studio, I used to jam on my synth keyboard on the dining table and listen to it on my Hi-Fi. I simply connected the headphone socket of the synth keyboard to the LineX Stereo FM transmitter.
Connecting my Laptop to the PA System of a Conference Room Without a Cable
When my mother passed away last year, we held a wake at Bronte Surf Club and I gave a audiovisual presentation about her life using a laptop and LCD projector. I did not have a cable to run the 15 metre distance between the laptop and the audio input of the venue's PA system. Even if I did, there were many people there and it would have created a safety hazard if someone tripped over it. Instead, I connected my laptop to the LineX stereo transmitter, and connected my MP3 Player (which has an FM receiver) to the audio input of the PA system. This worked perfectly.
Tags:
audio
,
FM transmitter
,
radio
,
wireless
Posted in
Consumer Electronics
|
No Comments »