Written by Vlad on October 10, 2010 – 4:25 pm - 5,316 views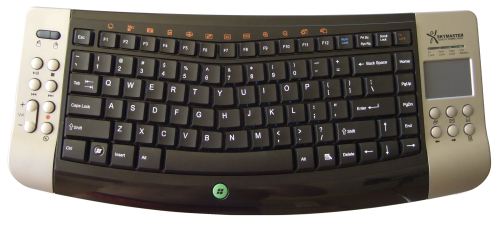 The WKB-1000 is a combined wireless keyboard and touch pad oriented towards Media Centre/Entertainment/Home Theatre PCs. It is light and slim, weighing 540g (1.2lbs) and measuring 422x180x19mm (16.6×7.1×0.75 inches). It operates over 2.4GHz radio and comes with a USB RF receiver, which operates over a maximum distance of 10 metres (33 feet). When plugged in to a PC, it emulates a standard keyboard and mouse, so it doesn't need any special drivers. It it powered by two AA batteries, and has several features to prolong battery life. This receiver conveniently fits into a slot underneath the keyboard for storage or transport.
Developed by Taiwanese manufacturer ORTek, it is sold in Australia as the Skymaster WKB-1000 and in the rest of the world under other names including Ortek WKB-1000, Ergotouch WKB-1000, Wireless Entertainment Ergo Keyboard w/ Touchpad or just Wireless Ergonomic Keyboard with Touchpad. Another model with a slightly different hotkey layout is the Ortek WKB-1100, commonly sold in the USA as the Adesso WKB-4100 UB.
Why I bought the Skymaster WKB-1000 wireless keyboard and touchpad.

After I bought a 55″ Samsung LCD TV, I decided to set up a media centre PC using a Giada N10 Nettop PC (nVidia ION 330-based) which I placed on top of my Hi-Fi unit in my living room. I connected it to my LCD TV using the HDMI over Cat5 extender and now I needed to be able to control it from my couch and dining table.
In a previous post, I stated that all desktop computer keyboards should be wired, except for Media Centre/Home Theatre PCs (HTPC) where there is a need for mobility and that it is important to physically test out a keyboard, as it will be in prolonged, intimate contact with your fingers. For this reason, I visited a computer shop to get a hands-on feel. The shop was Adelong Computers on York St, Sydney, behind the QVB.
I already knew that I wanted a keyboard with a touchpad instead of a trackball, because I find them more accurate and faster to move and place a mouse cursor at a given location on the screen. Eventually, I picked out the Skymaster WKB-1000 and purchased it for $70. It sells for a similar price online.
Best Features of the Skymaster Wireless Keyboard
Positioning of Touchpad and Mouse Buttons
This winning feature is not mentioned anywhere in the manual and puts it a head and shoulders above other wireless keyboards I have used.
The touch pad and mouse buttons are located on opposite sides of the keyboard, instead of the common position on the palm rest underneath the space bar. This ensures that:
The keyboard remains stable and balanced, and makes it comfortable to use.
You won't accidentally hit the touchpad by mistake with your palm and inadvertently click something or move the mouse cursor
You can either hold the keyboard in the air with both hands (one on each side), or rest it on your lap.
If you choose to hold it in the air, you support keyboard on each side with the palm of your hand and curl your fingers underneath. With your right hand, you control the touchpad. With your left hand, you operate the touchpad left and right mouse buttons.
If you choose to rest it on your lap with your hands free, the keyboard won't tip over if you press on the touch pad, as you will always the other hand near the mouse buttons on the other side, so the keyboard remains level and balanced.
Two-finger scrolling
You can vertically scroll a document, e.g. a browser window, by simultaneously sliding two fingers up or down the touchpad. I usually use the index and middle finger of the right hand.
You can also perform a standard left-mouse click by quickly tapping twice on the touchpad.
Hot Keys
The keyboard has 14 additional Hot Keys that provide useful control functions for media playback, internet and applications:
Left-hand side – 8 Multimedia Hot Keys: Volume down, Volume up, Mute, Pre track, Next track, Play/Pause, Stop, record
Right-hand side – 4 Internet Hot Keys: WWW, E-mail, Back, Forward
Right-hand side – 2 Application Hot Keys: My Computer, Calculator
In addition, there are 12 Windows Vista/Windows 7-supported Function Keys, controlled by the Fn Lock key consisting of:
6 MCE Hot Keys: My Music, My Videos, My Pictures, My TV, My Radio, DVD Pop-Up
6 Application Hot Keys: Close, Win select, Zoom +/- , Gadget and Flip 3D
Low power usage
The keyboard consumes a mere 20mA of current when actively transmitting. Depending on your AA battery capacity, you could get over 100 hours of non-stop usage. I am still on my original set of Eveready AA lithium batteries after 5 months.
As mentioned before, the keyboard goes into power saving mode, which turns off the keyboard's transmitter after a period of inactivity. The on/off switch at the bottom turns it off fully, which I usually do once I've finished using my media centre for the day.
Wireless Protocol is Not Bluetooth
Unlike some other wireless keyboards, it does not use the Bluetooth protocol for wireless transmission. Instead, it uses its own wireless data standard.
This avoids a lot of needless complexity, like Bluetooth pairing and device driver hassles – this makes it easier to install. The lack of a Bluetooth transceiver in the keyboard also reduces its complexity and reduces the power consumption, as the keyboard only has to transmit. This makes the battery last longer.
Keyboard signal LED on USB receiver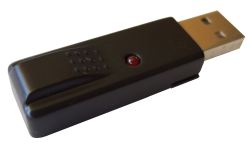 The USB RF receiver has a red LED that indicates whether it is receiving a signal from the wireless keyboard. The red LED flashes regularly to indicate that the keyboard is active. It also flashes when you press any key on the keyboard and is extinguished when the keyboard is switched off or in power saving mode.
Built-in slot for USB receiver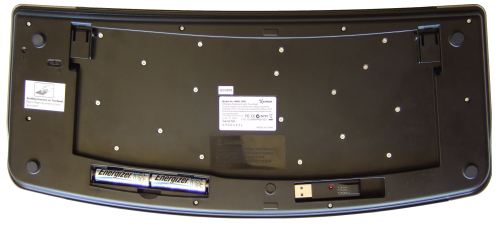 Underneath the keyboard, there is a built-in slot where you can store the USB RF receiver when it is not in use. This helps ensure that the receiver cannot get misplaced during transportation or storage.
Limitations of Keyboard
Needs line-of-sight to the USB RF receiver
Most people position their media centre PC to be near their TV, directly in front, so there will be a clear line of sight between the keyboard and the receiver.
In my room layout, my Hi-Fi cabinet is located on the right-hand wall of my living room. If I am sitting in the couch, the couch armrest lies in between the signal path between the keyboard and the receiver.
Occasionally it interferes with the reception of keystrokes. Sometimes the receiver gets confused and communication goes out of sync. When this happens, you can restore normal operation by power cycling the keyboard using the switch underneath – just flick it to off, and back to on.
Other options include changing your layout of your room or connecting a USB extension cable between the USB RF receiver and your media centre PC, in order to place it in a better position. A USB extension cable can be up to 5 metres long.
Waking up after power-save mode
When it is in power saving mode, you have to press a key (any key) to wake it up. It will ignore that key that you pressed, so you will have to press it again so it registers. This is a minor nuisance if you are reading a lot of text on the screen for several minutes at a time.
Wireless Protocol is Not Bluetooth
Yes, this is both an advantage and disadvantage. Your media centre PC/HTPC may already have a Bluetooth USB dongle, or inbuilt Bluetooth support, so the USB RF receiver for the WKB-1000 will use up an additional USB port. If this is a problem, you can buy a USB hub. I personally use the Targus ACH81 Desktop USB 2.0 7-Port Hub with Audio Pass-Through.
No numerical keypad
This keyboard does not have a separate numerical keypad. Instead, the numlock key switches the function of a group of letter keys on the right-half of the keyboard so that they act as the keypad.
Curvature
As part of its ergonomic design, the keys and keyboard have a slight curvature. I personally find a straight keyboard more comfortable, but this one is nowhere near as bad as the infamous Microsoft Ergonomic keyboard who looks like it was designed for some alien species.
Tags:
htpc
,
media centre
,
skymaster
,
touchpad
,
wireless keyboard
Posted in
Computer Hardware
|
No Comments »