Written by Vlad on October 10, 2010 – 4:25 pm - 5,589 views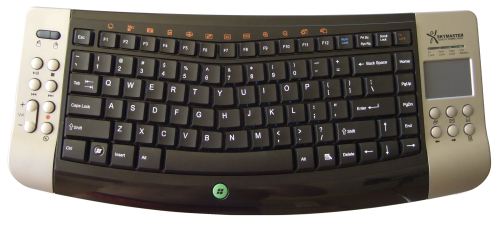 The WKB-1000 is a combined wireless keyboard and touch pad oriented towards Media Centre/Entertainment/Home Theatre PCs. It is light and slim, weighing 540g (1.2lbs) and measuring 422x180x19mm (16.6×7.1×0.75 inches). It operates over 2.4GHz radio and comes with a USB RF receiver, which operates over a maximum distance of 10 metres (33 feet). When plugged in to a PC, it emulates a standard keyboard and mouse, so it doesn't need any special drivers. It it powered by two AA batteries, and has several features to prolong battery life. This receiver conveniently fits into a slot underneath the keyboard for storage or transport.
Developed by Taiwanese manufacturer ORTek, it is sold in Australia as the Skymaster WKB-1000 and in the rest of the world under other names including Ortek WKB-1000, Ergotouch WKB-1000, Wireless Entertainment Ergo Keyboard w/ Touchpad or just Wireless Ergonomic Keyboard with Touchpad. Another model with a slightly different hotkey layout is the Ortek WKB-1100, commonly sold in the USA as the Adesso WKB-4100 UB.
Why I bought the Skymaster WKB-1000 wireless keyboard and touchpad.
Tags:
htpc
,
media centre
,
skymaster
,
touchpad
,
wireless keyboard
Posted in
Computer Hardware
|
No Comments »