Written by Vlad on August 25, 2010 – 8:53 pm - 2,697 views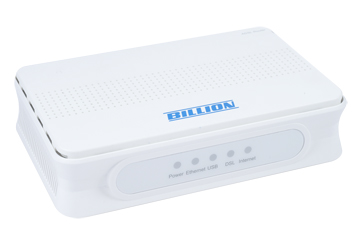 The Billion BiPAC 5210S RC is a basic ADSL2+ Modem & Router with both USB 2.0 and 100Mb Ethernet ports for client computers, and support for the ADSL2+ Annex M extension. It is perfect for when:
You only have a single desktop computer or laptop accessing the Internet
You already have a good wireless router and are either upgrading your old ADSL modem or are switching from Cable to ADSL.
I purchased it from MegaBuy for about $55.


Why I Bought the Billion 5210SRC ADSL2+ Modem & Router
I previously had Cable Internet with Telstra Bigpond, but at the time, they still had Sol Trujillo as the CEO. The monthy limit was 12GB and they counted both uploads and downloads. Also, the top upload speed was 1Mb/s. As part of my consulting work, I started doing experiments with Internet video streaming, so I needed a better upload bandwidth and monthly data limit. In July 2009, I switched to an ISP with Annex M support for ADSL2+, which increased my upload speed to 2.5Mbps. In Australia, currently iiNet and Internode support Annex M.
At the time, I already had an Asus WL-500gPV2 Wireless Router, so I really just needed a simple ADSL2+ modem with Annex M support. I discovered that dedicated ADSL2+ modems weren't available and that I would have to get a combined Modem/Router and disable its routing functionality.
I saw good reviews of Billion routers on the Australian broadband news/discussion site whirlpool.net.au, and chose the 5210 SRC – the second-cheapest model with Annex M. The cheapest model is the Billion BiPAC 5200 model which doesn't have the USB interface. I figured that having the USB interface could be useful for debugging and troubleshooting certain types of network problems.
I used my laptop to configure the Billion 5210S RC via the USB interface. Using the web interface, I went to "Interface Setup" and selected "Bridge Mode" to disable its inbuilt routing functionality, as my Asus router will be performing both routing and PPPoE authentication. I connected the Billion 5210S RC ethernet port to the WAN port of the Asus WL-500gPV2. It has been running reliably since I got it in July last year. I purchased another spare just in case this one breaks or gets damaged by a lightning strike.
Useful Tips for Other People
Using the Billion 5210S RC Standalone, as a Router
The USB and Ethernet Interfaces can be used at the same time. If you only have two computers in your home, you can connect one to the Ethernet port and the other to the USB port and configure the 5210S RC to operate as the router. This would save you from having to buy an additional ethernet switch.
Tags:
ADSL
,
Annex M
,
Billion
,
broadband
,
network
,
networking
Posted in
Computer Hardware
|
No Comments »