Written by Vlad on August 24, 2010 – 7:05 pm - 7,422 views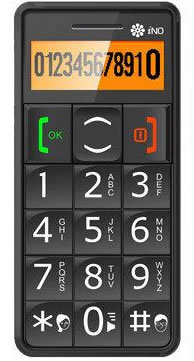 This is a basic dual-band 900/1800Mhz GSM mobile phone aimed at elderly people. Unlike most phones currently on the market, it has large keypad buttons.
Why I Bought The Senior Citizen's Phone

My grandparents are almost 90 years old age. I am grateful to still have them around. My grandfather asked me to get him a basic mobile phone that would be easy for him to use and to find a suitable mobile plan. He was not raised in the era of cheap consumer electronics, so navigating menus and icons is something he would not want to deal with – just something that would be easy to dial a phone number and answer calls from my grandmother, who is essentially housebound.
When I visited local phone shops, to my surprise, even the most basic modern mobile phones seemed to have small buttons, and I did not want resort to buying a 10-year old Nokia 5110.
I did a Google search and found the Senior Citizens phone advertised on some website for $140. It seemed to meet this criteria perfectly, but it also had support for SMS messages, multiple polyphonic ringtones, an FM radio, hands-free earpiece and even a built-in white LED torch. I then found it cheaper on eBay. I ended up paying $60 including shipping from Hong Kong.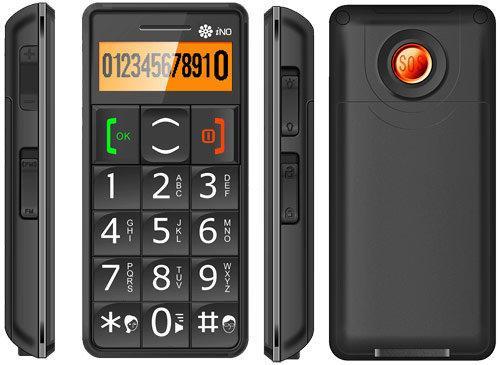 A Closer Inspection of the Senior Citizens Phone
The LCD display and keypad is backlit by orange LEDs. Whenever you press a keypad digit, a synthesized voice repeats it back to you, and it is displayed in a large full-height font on the LCD display.
On the left side of the phone, there are two controls. At the top is volume up and volume down. At the bottom is a slider that turns the FM radio on and off.
On the right side of the phone, the top control is a slider that turns the white LED  torch on and off. The LED is positioned at the front edge of the phone, like on a remote control. At the bottom is a slider that can lock or unlock the keypad, so that the phone won't dial accidentally when you put it in your pocket or bag.
Each keypad digit can be programmed as a speed dial. e.g. if you hold down '*', you can make it dial your home automatically.
At the back, is an orange circular "SOS" button. It will sound an alarm and automatically dial a series of programmed phone numbers until one of them is answered. This may be useful for someone who may be at risk from a medical emergency like a heart attack, asthma attack or sudden fall. This is also useful as a theft deterrent
The phone is very light, weighing approximately 100g and fits easily into the palm of your hand.
The specs state that you can expect 240 minutes of talk time and 15 days of standby time.
Generally Useful Features
After spending some time testing the phone and programming all my grandfather's important phone numbers, I actually found a few things that would make it appealing to a young person as well.
Easy to Operate With One Hand
There are times when you need to be able to operate your mobile phone with one hand without looking at it. The large buttons and synthesized voice makes it easy to use without looking at the display.
Undesirable by Thieves
I reckon it looks more like an old calculator or remote control rather than a mobile phone.
LED torch useful to have
If you've ever dropped something in your car or are trying to find a key in your keyring at night, the torch would be very useful.
Good for Trips
Having light weight and a long battery life is useful when you're on the move, camping or travelling in an area without mains electricity.
Areas of Improvement
Recharger
On the phone I received, the charger plug fit loosely in the socket at the bottom of the phone. If I jiggled the plug, the phone would momentarily stop charging. It seemed to be ok if I left it on the table.
Waking the Phone Up From Standby Mode
After 10 seconds of inactivity, the orange backlight turns off, and after another 10 seconds, the LCD display goes blank and the phone enters standby mode. You wake the phone up by pressing any key and then the LCD display and backlight turn back on. This is clearly a power saving measure, which is sensible. The two issues were:
1. I could not find a way to change these two time delays.
2. If you press a keypad digit to wake up the phone, e.g. when attempting to dial a number, you would have to press that digit again for the phone to recognise it as part of the number you are trying to dial. My grandfather finds this confusing.
Instruction Manual
The instruction manual that came with the phone did not exactly match the actual procedure that had to be used to set it up. Perhaps the manual was for another version of the phone?
Choosing an Australian Mobile Phone Plan for the Senior Citizens Phone
My grandparents are pensioners, so I had to choose an economical plan. People often say that prepaid SIM card plans are cheaper than postpaid, but I am not so sure. I considered the prepaid offerings from Virgin and Woolworths Everyday mobile, but their flagfalls and call rates were high, and the credits expire after 1-3 months.
Also, my grandfather found the prepaid SIM recharge procedure confusing. If he forgets to recharge his SIM card, his mobile number would expire and then he would have to get reconnected with a new number, which would be a big annoyance.
Fortunately, I found a fantastic post-paid plan with Exetel, who is a Vodafone & Optus reseller. You order the SIM online on their website using a credit card and they send it to you in the mail. They have a number of mobile plans with no flagfall and landline rates between 33 cents and 25 cents per minute with per second billing. In the end, I got my grandfather the Mobile 3 plan with a $10/month minimum. Although he had no need for sending SMS messages, on this plan they are 15 cents each.
Tags:
elderly
,
Exetel
,
GSM
,
mobile
,
phone
,
prepaid
Posted in
Consumer Electronics
|
No Comments »