Written by Vlad on August 22, 2010 – 6:12 pm - 2,130 views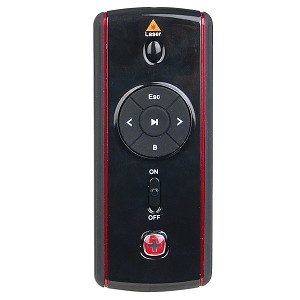 The SwissGear wireless presenter is a small handheld remote control for PowerPoint presentations. It also has an inbuilt red laser pointer. It is manufactured by Wenger, who are famous for being the official supplier of Swiss Army Knives to the Swiss Army.
The wireless presenter works by transmitting to a USB receiver, which you plug into the USB port of computer running the presentation, which can be a PC or Macintosh. The receiver can be anywhere within a 10 metre (approx 30 foot) radius of the wireless presenter. When not in use, the USB receiver is safely stored in a slot underneath the remote control, preventing it from being misplaced.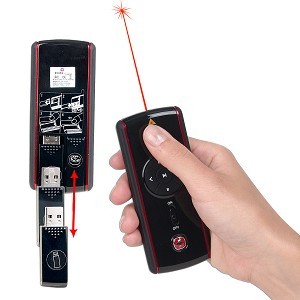 It features an ergonomically sound design, with side grips and five soft rubber navigation buttons, arranged in a circle. These perform the following functions:- Start/Pause slide show, Escape/End slide show, Slide Forward, Slide Back and Black Screen. The laser pointer button is located just in front of the navigation buttons. There is also a master on-off control at the back of the remote to ensure that the buttons are not accidentally pressed and drain the battery when you carry it it in your bag or pocket.
The wireless presenter takes takes two LR44 button cell batteries. I purchased this from CatchOfTheDay for about $19.
Why I Bought the SwissGear Wireless Presenter
A very ordinary reason. I give presentations from time to time, which consists of a talk accompanied by a Microsoft PowerPoint Presentation or live Computer Demonstration, usually on a projected screen. I wanted to be able to walk away from the computer and interact more with the audience. I liked the features and the design, especially how the USB receiver is stored in the remote control.
Other Uses for the SwissGear Wireless Presenter
Whatever you normally use a laser pointer for, e.g. pointing at things in the distance, playing with cats.
As the USB receiver emulates keyboard keypresses, you could control your own programs if you made them respond to those five PowerPoint navigation keys.
Tags:
laser pointer
,
PowerPoint
,
presentation
,
presenter
,
SwissGear
,
Wenger
Posted in
Computer Hardware
,
Consumer Electronics
|
No Comments »