Written by Vlad on January 19, 2011 – 12:00 am - 2,016 views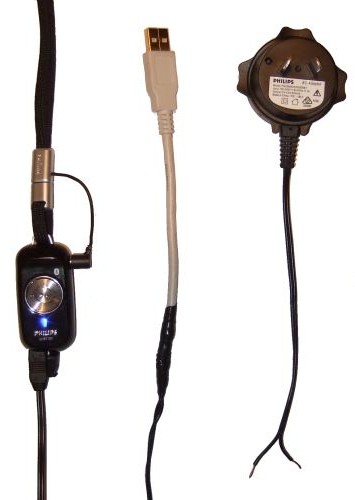 I own a pair of Philips SHB7100 Bluetooth earphones. They consist of a set of earphones connected to a pendant that hangs around your neck. The pendant contains the audio circuity, the Bluetooth radio and the internal battery. You control the earphones using the push buttons on the front of the pendant.
The SHB7100 came with a travel charger that made an annoying whining noise when it was recharging, and it was annoying me at night time. Furthermore, I did not want to carry around an additional recharger when travelling. I knew that I would find a way to solve this problem.
How I solved this problem
The charger is just a switchmode power supply mounted in a plug pack with an output of 5V DC at 500mA – the exact same specifications as a USB port. I knew straight away that I could make a USB charging cable. Unfortunately, the recharging connector located at the bottom of the pendant has a proprietary port, so I could not use a standard mini or micro USB cable.
I decided to cut the lead off the original charger and solder it to a spare USB Type A plug that I had in my junk box, left over from a project I did several years ago. If I didn't have a spare plug, I would have just cut one off a spare USB cable.
It is working beautifully and the headphones are now being charged by my Targus 7 port USB Hub, which has two high current always-on USB ports designed specifically for recharging portable devices.
Important Tips
USB 1.1 and 2.0 cables have 4 wires. They are usually colour-coded red, black, green and white. The red one is +5V and the black is GND – these are the ones that are used for charging. The green and white are the data signals D+ and D- respectively, but they are not being used for this application.
I was quite confident that the colour codes were correct, but manufactures sometimes make mistakes or do not abide by standards, so always use a volt meter to verify the polarity and voltages on the cables.
If the charging lead is a black figure-8 (twin conductor) cable, one cable usually has a white line along its length. This indicates that it carries the positive DC voltage. The other wire is ground.
If you are going to attempt to do something similar, make sure you first test your device by plugging it into an external USB hub – most of them have protection against excessive current draw and will shut down that USB port. Often, motherboard manufacturers cut corners and don't put the same protection into the root hub built into the motherboard, and you could accidentally fry some components. At best, you will break that USB port; at worst, you will break your motherboard – not good
Tags:
bluetooth
,
Philips
,
USB
Posted in
Consumer Electronics
,
Gadget Diary
|
No Comments »