Written by Vlad on July 8, 2011 – 2:36 pm - 4,871 views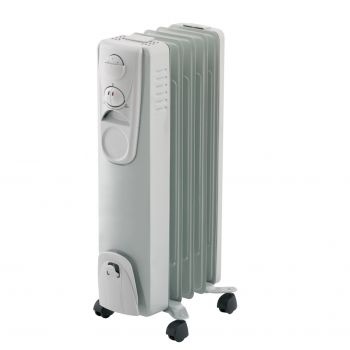 The Heller 5-fin 1000W Electric Oil Heater is an oil-filled radiative heater. It consist of parallel metal columns (fins) with hollow cavities and a sealed reservoir of oil. A heating element at the base of the heater heats up the oil, which then flows around the cavities of the heater by convection. The metal fins dissipate the heat into the surrounding air.
The heater is mounted on four caster wheels to allow easy movement around the home. It has three heat power settings – 400W, 600W and 1000W. The temperature is controlled by a thermostat which is adjusted via a rotary dial, located on the top of the front face. At the bottom, there is a spool for storing the power cable. A safety switch automatically cuts power to the heater if it is tipped over or toppled.
It weighs 6.6kg and measures 62cm height x 28cm length x 14.5cm width. The bracket for the caster wheels extends out from the bottom sides and is 24.5cm wide.
The 5-fin heater is the smallest oil heater that Heller make, but they also have larger models including a 7-fin 1500W, a 9-fin 2000W and an 11-fin 2400W.
I paid $29.95 from my local ThrifyLink hardware store, where it happened to be on special, marked down from $49.
Why I Bought a New Heater
It's Winter in Australia. Here in Sydney, we've started having some really cold nights (by Sydney standards). Last night, the temperature went down to 5°C. I've been reluctantly using the heater because electricity has become increasingly expensive. At the start of this month, the unit price per Kilowatt Hour was raised by 18%, and there's more increases to come over the next few years due to the RET scheme, infrastructure costs and the introduction of the "Carbon Tax".
Two nights ago, my old 5-fin electric oil heater that we've had for many years suddenly stopped working, so I knew it was time to get another one. I have never bought a heater myself, so I decided to investigate my options. I visited the local ThriftyLink hardware store. Although I usually buy online, I didn't this time because I needed the heater immediately and in any case, shipping fees for something this bulky and heavy would be significant, so the total cost may not have been cheaper than buying it in a conventional shop. Also, I needed to know how much noise and light the heaters generated.
In the end, I chose a heater that was virtually identical to the one I had before.
Why I Chose Another Electric Oil Heater
I am using the heater in my bedroom at night time, so I needed one that would run silently and not generate any light. This ruled out all fan-forced heaters, which produce fan noise. This also ruled out ceramic heaters and bar radiators, which produce a bright orange glow.
I live in an apartment with no individual gas supply, so this ruled out all gas-fired heaters. I also chose not to get a mountable panel heater, as this would be fixed in one location and take up space on the wall.
Those of you in North America might ask why we don't use Fuel Oil heaters. The reason is because we do not have heating oil delivery services – most Australian cities do not have frosty Winters, so we do not have the economy of scale to provide cheap oil delivery services for households.
Why I chose the Heller 5-Fin 1000W Model
I don't need to heat the whole apartment – just the room that I am in, and I only need just enough heat to prevent myself from feeling cold, but I don't need to feel like I'm in a sauna. 1000W of power would be sufficient.
The slim size of the 5-fin model makes it easy to store in my wardrobe when not in use. The 4 caster wheels makes it easy to move from room to room and to roll in and out of my wardrobe.
The 5-fin model is also light enough for a single person to carry or transport without breaking out in a sweat. When I purchased it, I easily carried it by hand from the store to my car, which was parked in the shopping centre's underground car park.
Limitations
Only Heller's 11-fin model has a timer. This is not a real issue for me because I simple turn off the heater when I wake up in the morning. If I ever need an automatic timer, I will just connect the heater to one of those cheap mechanical or digital mains timers.
More Information on Heaters
Tags:
heater
Posted in
Appliances
|
1 Comment »