Written by Vlad on July 8, 2011 – 2:36 pm - 4,711 views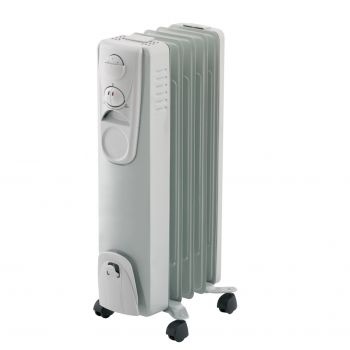 The Heller 5-fin 1000W Electric Oil Heater is an oil-filled radiative heater. It consist of parallel metal columns (fins) with hollow cavities and a sealed reservoir of oil. A heating element at the base of the heater heats up the oil, which then flows around the cavities of the heater by convection. The metal fins dissipate the heat into the surrounding air.
The heater is mounted on four caster wheels to allow easy movement around the home. It has three heat power settings – 400W, 600W and 1000W. The temperature is controlled by a thermostat which is adjusted via a rotary dial, located on the top of the front face. At the bottom, there is a spool for storing the power cable. A safety switch automatically cuts power to the heater if it is tipped over or toppled.
It weighs 6.6kg and measures 62cm height x 28cm length x 14.5cm width. The bracket for the caster wheels extends out from the bottom sides and is 24.5cm wide.
The 5-fin heater is the smallest oil heater that Heller make, but they also have larger models including a 7-fin 1500W, a 9-fin 2000W and an 11-fin 2400W.
I paid $29.95 from my local ThrifyLink hardware store, where it happened to be on special, marked down from $49.
Why I Bought a New Heater
Tags:
heater
Posted in
Appliances
|
1 Comment »