Written by Vlad on December 23, 2010 – 10:31 am - 1,884 views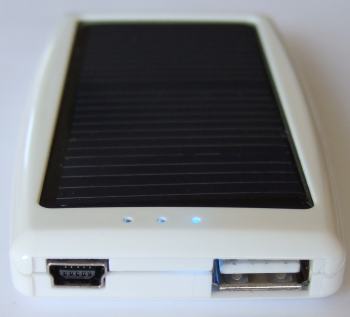 Do you hate it when the battery runs out when you're on your mobile phone and you don't have a PC or charger on hand? If you have a power hungry smartphone, like an iPhone, Google Nexus or HTC Desire, you will know this experience all too well. You may also have an iPod, Digital Camera, Bluetooth Headset or other portable devices that need to be topped up. If they support USB charging, the Solar Battery Charger can help you out.
The USB Solar Battery charger lets you recharge any of these devices when you are on the go. It is small and light enough to carry with you everywhere, measuring 43 x 110 x 12mm and weighing less than 70 grams. It comes in black and white.
I paid about $10 on eBay for the model with 1000mAh battery capacity.
How the USB Solar Charger Works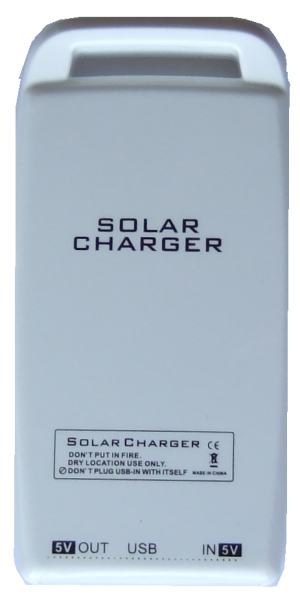 The solar charger consists of a monocrystalline silicon solar cell connected to a thin lithium polymer battery, which provides 5V DC output via a USB Type A female socket on the right side of the bottom edge (left-side in the above photo, which shows the back). You can then connect this to any mobile phone, MP3 player or device that recharges from a USB port. The battery has has a capacity of 1000mAh, but there are other models available with larger capacities, e.g. 2600mAh. Naturally, they are bigger and bulkier.
The specifications state that it takes 15-20 hours to fully charge the battery from sunlight. If you are in a hurry or want to recharge overnight, you can also charge the internal battery from a PC USB port, cigarette-lighter USB charger or a mains USB charger, which should take only 5 hours maximum. The recharging cable connecte to a mini-USB socket on the left-hand side of the bottom edge.
There are three aqua-coloured LEDs at the bottom that tell you the state of the battery, and whether it is charging the internal battery from sunlight or external USB.
Why I Bought the USB Solar Battery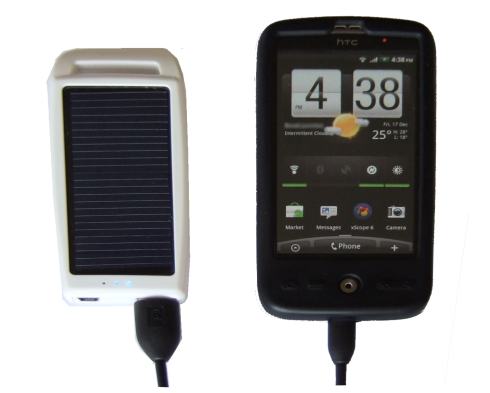 I adore my HTC Desire phone running Android 2.2 (Froyo). I am continually amazed at how many things I use it for which would have required a laptop in the past.
Mostly, I use it to check multiple email accounts when I am on the go using the Maildroid app. My favourite web browser is xScope, which I use to read online news and browse eBay. Skype has also released their official Android client, so I am now able to make and receive Skype calls using cheap mobile 3G Internet. I use AndFTP to access files from home via FTPS (FTP over SSL). I use WebSharing to turn my phone into a mini file server, when I want to transfer files from a nearby PC. I can also play MPEG4/DivX video files using VPlayer Beta. The list goes on.
Unfortunately, the phone usually runs out of power by the end of the day. Not a big problem when I am at home, in the office or have my laptop near me to plug the phone into, but when I am out late with friends it sucks.
I have implemented all the basic power saving tips. I have set the phone to use a dark background. On my home screen, I have buttons for rapidly enabling and disabling WiFi, Bluetooth, GPS and 3G Mobile Data to save power when I am not using them. There are other things I could do, but I feel that they would result in me losing the benefits and convenience I am getting from using a smart phone.
The standard HTC Desire battery is 1300mA, so connecting the USB Solar Battery almost doubles the operating time. During the day, I leave the charger near the window, and when I go out, I put it in my carry bag or a shirt pocket.
Devices that I am using the USB Solar Battery Charger to power or recharge
HTC Desire Mobile Phone
Philips SHB7100 Bluetooth Headphones
Apple iPod Nano 5G
Uniden ULP-1000 Pocket Projector
Tags:
battery
,
charger
,
iphone
,
photovoltaic
,
solar cell
,
USB
Posted in
Computer Hardware
,
Mobile Phones
|
1 Comment »