Written by Vlad on October 12, 2010 – 4:59 pm - 4,281 views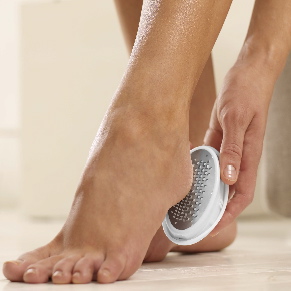 The Ped Egg is a foot file designed to gently remove callouses, dry and cracked skin from the feet and toes, leaving them soft and smooth.
It consists of an ergonomically designed ellipsoid container, with a metal file on the bottom and an emery board on top. The metal file has a thatched pattern, reminiscent of a kitchen grater. It is designed to exfoliate the skin and trap the exfoliated skin flakes inside the container. Once you are finished, you can open the container and empty it into a garbage bin.
To use it, you hold the Ped Egg in your palm and move the metal surface back and forth across the areas of hard skin until you have exfoliated the dry and cracked layers. You then turn the Ped Egg over and use the side with the emery board to polish the skin to make it smooth and silky. If you like, you can then apply any of your favourite nourishing skin creams or oils.
Why I bought the Ped Egg

Good question.
I am regularly up late after midnight and happened to be watching the late TV news. During the commercial break, I saw ads for the Ped Egg. It was one of those traditional infomercial-type promotions with an enthusiastic voiceover, demonstrations on beautiful people, and an amazing 'discount' if you ordered within 30 minutes. The asking price was $49.95, but it came with a lot of other accessories. I do not know how useful they were, but I am certain that the package would still have left them with a handsome profit. Fast forward a year, and the Australian bargain site catch of the day was selling them for $5 each. I was curious, so I decided to get one for my mother and myself.
Ped Egg Components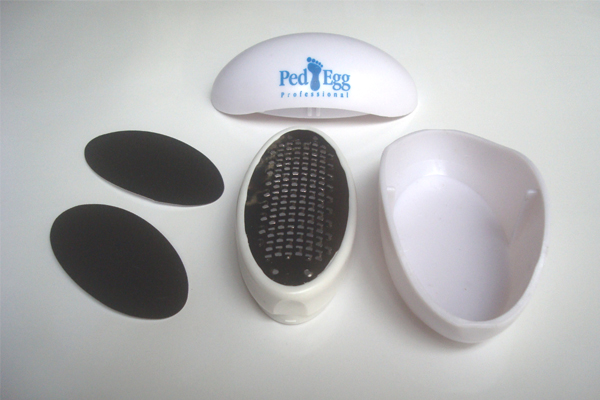 The ped egg container consists of two halves – one with the metal file at the bottom surface, and the other with a plastic indent which holds the emery board. It comes with two emery boards, so you have a spare once the first wears out. There is also protective cover that goes over the metal file, so that you can safely carry it in a bag or purse. Replacement emery boards and metal files (sometimes called blades) are readily available online.
Why Use the Ped Egg
Many people take pleasure and pride in making themselves look great and presenting themselves well. Beautiful people apparently earn more money, get better service and have people flirt with them more often. Outward beauty is often the magnet that draws people in to allow them to discover the real inner beauty you have below the surface. Our modern Western society places outward beauty on a pedestal, and sets ever increasing standards for achieving it, as we see in movies stars, TV personalities and music videos. Imagine going back 20 years and telling someone that you were going to have a deadly neurotoxin injected into your forehead to temporarily reduce wrinkles. Now, it is quite common and god knows what people will be doing in the name of beauty in 10 years.
Obviously, most of us do not need to go to such extremes, and one can achieve a lot with just a few anti-aging facial moisturisers and hair products. Indeed, there are so many beauty products are targeted at the face and hair, but what about the other end?
Healthy looking feet make a big difference to one's beauty and sex appeal. Your feet are visible to everyone when you walk on the beach or wear sandals and flip-flops. Callouses, cracks and dry skin can make feet look dirty, old and aged. If you enjoy having your feet massaged or caressed by your partner or love interest , they will be even more keen if you present them with feet that are radiant, soft and smooth to the touch.
Causes of Feet Callouses and Hard Soles
Hardening of the skin of the soles is usually the body's defensive reaction to your lifestyle and footwear. People who frequently walk barefoot on rough surfaces can expect hardening. Track athletes, dancers and gymnasts will place impulse bursts of heavy pressure on certain parts of the sole, and this may create hard callouses on those areas.
People who are on their feet constantly carrying heavy loads, e.g. backpacks, shopping, will place more pressure on their feet. In this case, hardening is likely to be thinner, but over a larger area.
If your shoes have little cushioning, excess pressure may be concentrated on a few specific spots that bear the most load – usually on the heel and near the big toe, and callouses are likely to form there.
Wearing high heels will significantly alter the pressure distribution on your foot. More pressure will be placed on the toes and ball of your foot, and those areas can be expected to roughen. Poorly fitted pumps (closed high heels) can compress your toes together, and they can harden in between the digits.
Treating Hardened Skin on the Feet
It must be stated that even after treatment, hardened skin will eventually recur on the feet if you do not address its causes. If you have the ability to adjust your footwear or change your lifestyle, perhaps you can slow down the process, reduce the number of callouses or the hardness of the new skin. If your footwear or lifestyle is related to your chosen profession, favourite sport or recreational activities, your options may be limited.
Creams can help soften the skin, but if you have a significant hardening, they can take a very long time to work. Exfoliation will greatly speed up this process.
A pedicurist will be able to treat and exfoliate your feet, but this can be expensive. Spending a few dollars on a Ped Egg is much cheaper than paying for a single pedicure, and you can use the Ped Egg over and over. This may allow you to reduce the number of pedicures you need or eliminate pedicures altogether.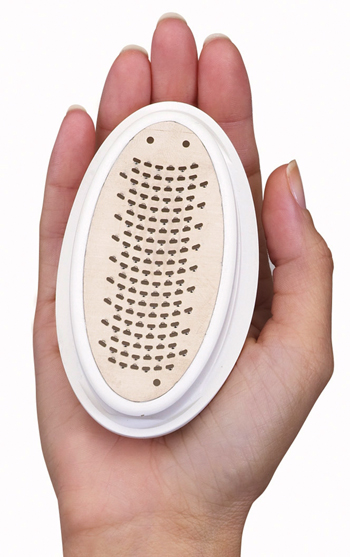 My experience with the Ped Egg
At the tender age of 30, my feet are in pretty good condition. After inspecting my foot, the hardest patches of skin are on the heel – direcly underneath the achilles, and on the outside edge. On the joint underneath the big toe, there is also a small callous. I see some dry skin, but no cracks or broken skin.
I attribute this to the fact that I seldom walk barefeet outside my home. My footwear is either business shoes or sneakers, which have cushioning, so the weight is distributed around my foot. Spending many hours sitting on a chair in front of a computer reduces the pressure on my soles, hence the skin has not had to react by hardening as much. I do jump around a bit at dance classes and during my personal training session, so that probably explains those isolated patches.
I actually had to rub the Ped Egg for about 5 minutes on the back of my heel to exfoliate a significant amount of skin. After this, it looks a bit rough, like timber that has been sanded with coarse sandpaper. Once I used the Ped Egg's emery board, the area became smooth and assumed its normal flesh colour.
Tips for getting the most out of the Ped Egg Foot File
Use it with dry feet. They say that you can use it wet or dry, though I found it worked better dry
If you are going to file a large area, periodically stop filing and slide your fingertips around the sole of your foot to sense the thickness of the skin. This will allow you to work out which areas are done and which areas need more exfoliation
In the interests of hygiene, do not share your Ped Egg with other people. It is cheap enough for everyone to have their own
Keep it away from cuts, sores and other skin lesions
If you have diabetes or a skin disorder like eczema or psoriasis, consult a medical doctor before using it
Overuse can make the outermost layer of skin (epidermis) thinner on the soles of your foot. That may make your feet more sensitive to heat and cold. Do not attend a fire walking event on the same day. If you frequently walk on run barefoot, e.g. for running or gymnastics. If you experience sensitivity, discontinue using it until your skin regrows and thickens. Just as with the face, the new layers of skin are usually smoother and younger looking
On the other hand, perhaps you may have a good reason to want to keep the skin hard on your foot, e.g. for athletics. In that case, you may just decide to use the emery board to smooth and polish any rough areas
Reviews of the Ped Egg
"NBC news review of the Ped Egg from segment "Does it work?"
Fox News Review of the Ped Egg from segment "Deal or Dud?"
ABC News Review of the Ped Egg from segment "Try It Before You Buy It"
Tags:
foot file
,
Ped Egg
,
pedicure
,
skincare
Posted in
Health and Fitness
|
1 Comment »