Written by Vlad on October 12, 2010 – 4:59 pm - 4,394 views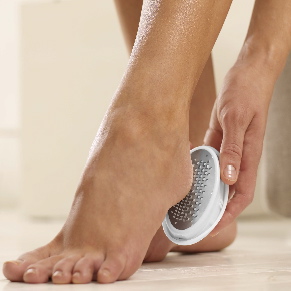 The Ped Egg is a foot file designed to gently remove callouses, dry and cracked skin from the feet and toes, leaving them soft and smooth.
It consists of an ergonomically designed ellipsoid container, with a metal file on the bottom and an emery board on top. The metal file has a thatched pattern, reminiscent of a kitchen grater. It is designed to exfoliate the skin and trap the exfoliated skin flakes inside the container. Once you are finished, you can open the container and empty it into a garbage bin.
To use it, you hold the Ped Egg in your palm and move the metal surface back and forth across the areas of hard skin until you have exfoliated the dry and cracked layers. You then turn the Ped Egg over and use the side with the emery board to polish the skin to make it smooth and silky. If you like, you can then apply any of your favourite nourishing skin creams or oils.
Why I bought the Ped Egg
Tags:
foot file
,
Ped Egg
,
pedicure
,
skincare
Posted in
Health and Fitness
|
1 Comment »